A Lifetime of Achievement:
Edward Stanley Temple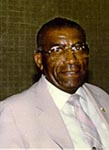 Edward Stanley Temple was born September 20, 1927 in Harrisburg, Pennsylvania. He is the son and only child of the late Christopher and Ruth N. Temple. He was an All-State athlete in track, football and basketball at John Harris High School in Harrisburg, Pennsylvania.
Mr. Temple attended and graduated from Tennessee State University, Nashville, Tennessee (B.S. and M.S. degrees in Health and Physical Education; minor in Sociology). He has also done work toward the doctoral degree at Pennsylvania State University.
He was Head Women's Track Coach for two consecutive U.S. Olympic Teams (1960 in Rome, Italy and 1964 in Tokyo, Japan), as well as an assistant coach for the 1980 games. He served as the Women's Track Head Coach in 1958 and 1959 in dual competitions between the USA and USSR; the 1959 and 1975 Pan American Games; the 1970 European Tour of Germany, Russia and Romania, and the 1975 USA versus China competition.
He served as Head Coach of the USA Junior Team at the 1982 and 1986 Pan American Junior Games, and Head Coach of the U.S. National Junior Women's Track Team at the dual meet with Romania in Bucharest, and the first ever World Junior Championships held in Athens, Greece in 1986.
For forty-four years, he served as head women's track coach at Tennessee State University, Nashville, Tennessee and associate professor of Sociology. During his coaching tenure, forty members of his famed Tigerbelle teams have represented Tennessee State University in Olympic competition, winning a total of 23 Olympic medals (13 Gold, 6 Silver, and 4 Bronze). Thirty-five Tigerbelles competed for the United States, while five members have represented their native countries of Panama, Jamaica, Bermuda, and Trinidad. Coach Temple also led the Tigerbelles to 34 National titles (16 Indoor, 13 Outdoor, and 5 Junior Championships). Thirty-nine of the Tigerbelle Olympians have graduated from college with one or more degrees; eight Tigerbelles have been inducted into the National Track and Field Hall of Fame.
Mr.Temple retired from full-time teaching and coaching at Tennessee State University in May, 1994.
A past member of the U.S. Olympic Committee, Mr. Temple is presently a member of the International Women's Track and Field Committee and a member of the Nashville Sports Council. He also served as chairman of Nashville's 200-plus member Amateur Sports Committee.
Mr. Temple remains an active member of the Downtown Nashville YMCA, Omega Psi Phi Fraternity, and Clark Memorial United Methodist Church. He is married to the former Charlie B. Law, who served as his "assistant coach" in addition to directing Tennessee State University's postal services for 42 years prior to her retirement in September, 1993.
He has been elected to the National Track and Field Hall of Fame, Tennessee Sports Hall of Fame, Helms Hall of Fame, Tennessee State University Hall of Fame, Harrisburg (PA) Central Area Chapter Hall of Fame, Pennsylvania Sports Hall of Fame, Ohio Valley Conference Hall of Fame, Black Athletes Hall of Fame, and Communiplex National Sports Hall of Fame.
The Temple legacy of excellence continues in such recognitions as the Edward S. Temple Track at Tennessee State University; Ed Temple Boulevard in Nashville, adjacent to the TSU campus; the Edward Temple Award established by the National Collegiate Athletic Association (NCAA) Track and Field Coaches Association; and the Edward S. Temple Seminars: Society and Sports, held annually at Tennessee State University.
Mr. Temple's autobiography, Only the Pure in Heart Survive, was published in 1980. This book, along with additional papers and memorabilia from his lifetime of achievement, are part of the Special Collections department in the Brown-Daniel Library, Tennessee State University.