THE HUBERT B. CROUCH HALL
THE GRADUATE SCHOOL BUILDING was erected in 1967 and proclaimed the HUBERT B. CROUCH BUILDING in 1980. The four-story, air-conditioned brick building is located directly west of the ADMINISTRATION AND HEALTH BUILDING and rests on the site of the University's mirror lakes and rock garden designed by the landscaper, D. A. Williston. The building houses the offices for the Dean of the Graduate School and the Dean of the College of Arts and Sciences. It also contains the main offices for the departments of Communication, Government and Public Affairs, History and Geography, and Modern Foreign Languages.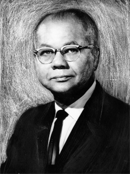 Hubert B. Crouch served Tennessee State University for twenty-eight years before retiring in 1972. In August 1944 he left the position of Professor of Biology at Kentucky State University to become Professor and Head of the Department of Biology and Director of the Division of Science at Tennessee State University. In 1950 he became the first full Dean of the Graduate School and continued in the position until his retirement. Dr. Crouch earned the B.A. degree from Texas College in 1927, the M. S. degree from Iowa State College in 1930 and the Ph.D. in Paristoloty from Iowa State College. He was one of the founders of the National Institute of Science and engaged in extensive research published in scientific, professional journals, and served on the boards of many community organizations.