JOHN W. WORK, III (1901-1967)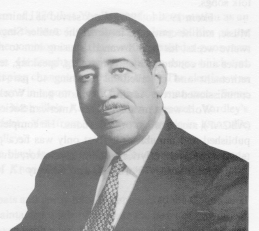 John Wesley Work, III, was born June 15, 1901, in Tullahoma, Tennessee, to John Wesley Work, II, and Agnes (Haynes) Work. Young John came to Nashville because his father accepted a teaching position at Fisk University. Influenced by the musical background of his family, John produced his first composition, Mandy Lou, at age seventeen. He received the A.B. degree in history (1923) and decided to enter New York's Institute of Musical Arts (Julliard School of Music. After Agnes Work's death in 1927, John returned to Nashville and completed his mother's appointment as a trainer of singing groups at Fisk University, where he remained for thirty-nine years.
Meanwhile, John returned to New York to continue his studies in 1927. He received the Master of Music Education degree in 1930 from Columbia University, received a fellowship in 1931, and obtained a Bachelor of Music degree in 1933 from Yale University. John Work, III, resumed his duties at Fisk, teaching music education and theory. In 1946, he became the director of the Jubilee Singers and reorganized the group into an ensemble of mixed voices.
From 1946 to 1956, John Work, III, published more than fifty compositions. He received an award from the Fellowship of American Composers for his composition, The Singers, in 1946. Based upon a poem by Henry W. Longfellow, this cantata was performed first at the 1946 Fellowship of American Composers Convention in Detroit. After spending three months in Haiti, Work wrote a suite for strings centered on Haitian themes. The string symphony performed this suite, Yenvalou, at the 1946 Saratoga Spring Festival. He completed a manuscript composition, Golgotha, based upon a poem by Arna Bontemps. The Fisk Choir performed this composition during the 1949 Festival of Music and Art.
Work's composition, My Lord, What A Morning, was performed for the Festival of Music and Art in 1956 by choruses representing choirs form Germany, Sweden, Great Britain, South America, France, Yugoslavia, Japan, Canada, and the United States. The choir toured the United Nations and performed this composition in Philharmonic Hall for the Festival's Gala Concert.
Although many musicians did not consider black folk songs to have musical credence, John Work, III, gave the Negro folk song a musical form. His book, American Negro Songs and Spirituals (1960) made an invaluable contribution to musicology. The book contains 230 religious and secular songs, as well as the origins and nature of the various types of black folk songs.
From 1950 to 1957, Work served as chairman of the Fisk University Department of Music, and he continued to direct the Jubilee Singers until 1956. After touring Europe for twelve weeks, his health waned, causing him to relinquish conducting and administrative duties and concentrate on composing, speaking, teaching, and writing. In 1966, he neared retirement and curtailed his teaching to part-time service. The Fisk class of 1941 commissioned artist Aaron Douglas to paint Work's portrait in 1966.
Work was a member of the American Society of Composers, Authors and Publishers (ASCAP), among other organizations. He completed more than one hundred compositions, published and unpublished. Not only was he a prolific composer, Work was gifted with talent as an author, lyricist, choral conductor, educator, and ethnomusicologist.
John Wesley Work, III, died on May 17, 1967.