JOHN LEE "SONNY BOY" WILLIAMSON (1914-1948)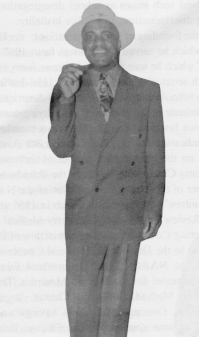 John Lee "Sonny Boy" Williamson was born in southwest Madison County on March 30, 1914, to Ray Williamson and Nancy Utley. John Lee's father died when he was a baby, and he was reared by his mother. At age eleven, he received his first harmonica as a Christmas gift form his mother. According to his half-brother, T. W. Utley, when he was not chopping cotton, milking cows, or doing other farm chores, he was teaching himself to play the harmonica by listening to and playing along with records on an old wind-up record player. By the time he was sixteen, Williamson was jamming around Tennessee and Arkansas with guitarist "Sleepy John" Estes and mandolin demon James "Yank" Rachell.
In 1934, Williamson moved to Chicago, where a thriving blues scene was in full swing. An experienced artist, he immediately made his imprint, first as a much-recruited accompanist and, when he began to play his own compositions, as a much-sought-after headliner. Three years after he moved to the "Windy City," Williamson made his first recording, Good Morning, Little School, for Victor's subsidiary Bluebird label. This recording introduced his unusual, individualistic, and widely influential instrumental style of "squeezed" notes and "crossed-harp" playing--his distinctive style was imitated by many other musicians. From 1937 to 1945, Williamson recorded for the Bluebird label, sharing many sessions with guitarist Big Joe Williams. From 1945 to 1947, he recorded on the Victor label. When he started recording in 1937, he still maintained his southern roots. With his distinctive vocal style and fluent harp, he sounded like a country boy. "He played with all the rhythmic subtlety of the best country blues, slurring and wailing the harp notes, making the harmonica almost a single entity....But gradually the rural sound changed, as if the country boy was wising up to city ways," wrote Giles Oakley, author of The Devil's Music: A History of the blues.
John Lee "Sonny Boy" Williamson helped propel the country blues of his native Southland toward a more exhilarating, urban-blues sound with his blend of originality, country intensity, and the electrification of his sound with the piano, bass, and drums. His tempo was so overpowering that he placed a pillow under his feet during recording sessions to silence the sound of his feet keeping time to the beat. Pete Welding, on Blues Classic's Album 21, described Williamson as "a forceful singer, popular recording artist, and the first truly virtuoso blues harmonica player, whose rich, imaginative solo flights resulted in completely re-shaping the playing approach and the role of his humble instrument in the blues." Many of his songs are considered today as blues classics.
In the wee hours of the morning, on June 1, 1948, the blues world lost one of its most influential harmonica players when John Lee "Sonny Boy" Williamson was beaten to death as he left one of Chicago's nightclubs. In keeping with the lyrics he often sung in life, "Now I want to bury my body, 'way down in Jackson, Tennessee," Williamson's body was conveyed to the city of his birth. For forty-two years, his body rested in an unmarked grave, sheltered by the deep shadows of the Jackson woods and covered with a verdant blanket of kudzu. On June 1, 1990, city officials, family members, friends, recording executives, and blues enthusiasts gathered to celebrate "John Lee 'Sonny Boy' Williamson Day" and to dedicate a Tennessee historical marker, placed on Tennessee Highway 18 and Caldwell Road, near the site of the musician's birthplace. RCA Records, whose corporate history includes the Bluebird and Victor labels on which Williamson became famous, presented a rose granite gravestone to mark the resting place of the forgotten blues great.
Since 1937, Williamson's first commercial recording, Good Morning, Little School Girl, has been recorded numerous times by artists who include The Grateful Dead and Canned Heat.