AVON NYANZA WILLIAMS, JR. (1921-1994)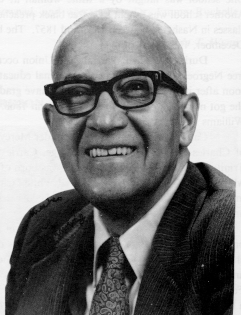 Throughout his career, Attorney Avon Williams was viewed by many as an ardent, controversial, and feared leader of the local Afro - American community and as one of its most dominant and articulate figures.
Avon Nyanza Williams, Jr., was born on December 22, 1921, in Knoxville, Tennessee, the fourth of five children of Avon and Carrie Belle Williams. He received his primary and secondary education in the public schools of Knoxville and was graduated with an A.B. degree from Johnson C. Smith University in 1940. He later entered Boston University's School of Law, where he received the L.L.B. degree in 1947 and the L.L.M. degree in 1948. In April and August of 1948, he was admitted to the bar in the states of Massachusetts and Tennessee, respectively. Attorney Williams interned with Nashville attorney Z. Alexander Looby and then returned to Knoxville to set up his own law practice.
Avon Williams exhibited an interest in civil rights cases early in his legal career. He had been in solo practice less than a year when he filed suit for four black students applying for admission to the University of Tennessee graduate school. This case, Gray versus University of Tennessee, reached the U. S. Supreme Court; the university capitulated and admitted the young men. In 1950, Williams, Looby, and Carl Cowan filed the Anderson County school desegregation case (McSwain versus Board of Anderson County, Tennessee), which was the first such public school case in Tennessee. Williams returned to Nashville in 1953 and went into the general practice of law in association with Z. Alexander Looby, remaining for sixteen years. In 1953, he was admitted to practice in the U. S. Court of Appeals for the Sixth Circuit, and in 1956, he was admitted to practice in the U. S. Court of Military Appeals. In 1956, he also married Joan Marie Bontemps, the daughter of poet and writer Arna Bontemps. They had two children, Avon Nyanza, III, and Wendy Janette. In 1963, Williams was admitted to practice in the U. S. Supreme Court.
During the turbulent decades of the 1950s and 1960s, Williams involved himself, without remuneration, in various civil rights suits--many of which reached the state and federal supreme courts. These cases involved such issues as school desegregation, public accommodations, employment and housing discrimination, and police brutality.
Avon Williams was instrumental in the founding of two organizations: the Davidson County Independent Political Council, of which he served as president from 1962 through 1966, and the Tennessee Voters Council, of which he was general chairman from 1966. He was elected to the newly created nineteenth senatorial district in 1968. He drafted many legislative bills, including one requiring each school system to include Afro-American studies and one forbidding utility districts to discriminate on account of race in laying water lines.
In 1969, Williams established his own law practice. He became a member of the American Bar Association, the American Judicature Society, the Nashville Bar Association, the Tennessee Bar Association, and served on the boards of a number of community and civic organizations, including Davidson County Citizens for TVA and the Davidson County Anti-T.B. Association. He became a member of the executive committee of the NAACP in 1953; became an elder and trustee of St. Andrew's Presbyterian Church in 1956 and 1966, respectively; a member of the Appeals and Review Committee of Meharry Medical College; and a member of the State Democratic Steering Committee for the re-election of President Lyndon Johnson. In 1972, he was a delegate to the Democratic National Convention. He became in 1969 a cooperating attorney for the NAACP Legal Defense and Educational Fund, Inc., and served from 1963 as special counsel for the Jackson-Memphis, Tennessee, and West Tennessee Conferences of the Colored Methodist Episcopal Church. Beginning in 1962, Attorney Williams was counsel for the Community Federal Savings and Loan Association of Nashville and, in 1978, he became counsel for the Citizens Realty and Development Company and its successor, Citizens Bank Building Limited Partnership. From 1966 to 1975, he was a lecturer on dental jurisprudence at Meharry's School of Dentistry, and in 1976, he became a professor at the school.
In 1972, Williams became involved in the Tennessee State University / University of Tennessee at Nashville merger suit as attorney for the plaintiff interveners, successfully persuading the court that U. T. Nashville should be merged into T. S. U. "This became a landmark decision, because this was perhaps the first time in the history of the nation that a major whine institution was absorbed by a major black institution." Williams persuaded the U. S. Circuit Court of Appeals in Cincinnati to stay U. S. District Judge Thomas A. Wiseman's desegregation order for public schools in Nashville. The U. S. Supreme Court refused to lift the appellate court's stay. Throughout his adult life, Attorney Williams was the recipient of numerous civic and professional awards and citations.
Avon N. Williams, Jr., died on August 29, 1994, and was buried in Nashville's Greenwood Cemetery.