CARRIE JOHN RICHARDSON WHITE (1851-1934)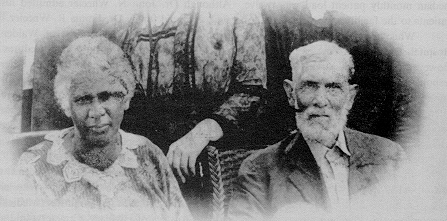 Carrie John Richardson was born in 1851 in Nashville to Ann McGavock and John Richardson. Her father had been a slave, who purchased his freedom and worked as a barber at the Commercial Hotel. A literate man, he wrote many underground passes for slaves. Ann's father was a white man, and her mother was an American Indian. Thus, Ann McGavock and her four sisters--Susannah, Jo Anna, Martha, and Fannie--were technically (legally) freeborn.
While Ann was in New Orleans, her father died of cholera. A white man, Randal McGavock, took custody of the five children. Randal McGavock migrated from Virginia to Nashville in 1795, established a successful career, and served as mayor before moving to Williamson County to build Carnton mansion. McGavock gave Susannah to his daughter, Elizabeth, who married General William Giles Harding. Susannah remained on Harding's Belle Meade plantation until after slavery and her death.
Carrie's great-grandmother was Jonah, a full-blooded Creek Indian, who lived in a hut on the grounds where the state Capitol stands. Her mate was a Negro. Also, Carrie's paternal grandmother's mate was an Indian, Tupponce.
Carrie, born in 1851, was reared in a house on Gay Street, near Summer Street (Fifth Avenue, North). Her mother later sold the property and moved the family home to Grant and Fourteenth Avenue, North. Carrie's early education was received in dames"schools. One school was taught by a white woman at the corner of Fifth and Jefferson streets. Another school was taught by a free black preacher named Daniel Wadkins, who conducted classes in Nashville between 1837 and 1857. The black schools were closed as a result of the December, 1856, race riot.
During the Civil War and the Union occupation, like so many of the town's other free Negroes, Carrie continued her formal education. She was enrolled at Fisk University soon after it opened in 1866 and would have graduated from the college course, except that she got married to Charles Henry White in 1868. Charles attended Baptist College (Roger Williams University).
Carrie became an apprentice under Mercy Duke Gordon, a seamstress and the aunt of Charles H. White. Before marriage, Carrie taught at Bell Buckle, Tennessee, and at Trinity School in Nashville. Charles was born of a free mulatto named Yessie Duke and a white judge of Gallatin, named Alfred White. Charles was a barber and later taught school in Franklin. After his marriage, he worked as a shipping clerk on Nashville's Public Square and sold dairy products from his farm.
The Whites bought a forty-five-acre farm in 1875. Located five miles from Nashville on Brick Church Pike, the farm had horses, mules, ponies, guineas, turkeys, peafowl, chickens, hogs, and cows. There was an abundance of fruit trees and children. Carrie White and her husband had ten children: Alfred, James, Randall, Carrie, Charles, George, Maude, Felix, Annie, Gordon, and Howard. Only eight children grew to adulthood; Alfred died as a baby, and Howard passed at the age of seven years.
Carrie's children enjoyed various careers, including doctor, teacher, principal, post office worker, housewife, fireman, undertaker, and transfer worker. Several of the children attended Fisk University's model and preparatory grades. James and Annie received their bachelor's degrees from Fisk in 1894 and 1906, respectively, and daughter Carrie received her normal school certificate in 1893.
Carrie's two college graduates excelled in their careers. James received the M. D. degree from Meharry Medical College in 1897. He became a major in the Medical Corps during World War One and was awarded the Croix de Guerre from the French government. Annie received certificates in French at the Royal Victoria College of McGill University in Montreal and at the University of Potier in southwestern France.
Carrie White died in Nashville in 1934. Charles White preceded her in 1928.