WILLA ANN HADLEY TOWNSEND (1880-1947)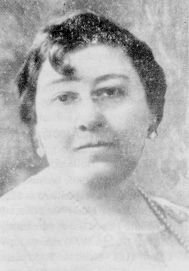 Willa Ann Hadley Townsend was born April 11, 1880, in Nashville to Sam P. and Mary Hadley. She was educated in Nashville public schools and received degrees from Fisk, Roger Williams, and Northwestern universities, as well as a degree in religious education from the National Baptist Missionary Training School. She taught in Nashville's public schools, at Roger Williams University, and at the Howe Institute in Memphis. She also served as organist and music director for Spruce Street Baptist Church, where she met and married Arthur M. Townsend, a physician.
When her husband became president of Roger Williams University, Willa Townsend served as head of music and director of the university's singers. The Roger Williams Singers toured to raise funds and to erect three buildings on the campus. They "sang the University back into Roger Williams," a local black school that struggled to survive, but closed in December 1929.
As a hymnologist, songwriter, and music director, perhaps one of Willa Townsend's most outstanding works was the Baptist Standard Hymnal. She served as chairperson for the music committee for the Sunday School Publishing Board of the National Baptist Convention, U.S.A., Inc., and compiled and edited Gospel Pearls and Spirituals Triumphant. This work is still used today by many black Baptist churches. Willa Townsend also edited The Beginner's Quarterly, Special Day Programs, and other Baptist publications.
Willa Townsend was an active leader in the Sunday School Publishing Board and many other religious organizations. In 1934, she represented the board at the World's Baptist Alliance, held in Berlin, Germany. This trip afforded her the opportunity to tour the Holy Land and be baptized in the River Jordan. She was a member of the board of directors of the National Baptist Training School, president of the Women's Auxiliary of the Tennessee Baptist Missionary and Education Convention, vice president of the Women's Auxiliary, and held many other offices at the National Baptist Convention, U.S.A. She used her talents to organize a $200,000 bond campaign to pay off the debt for the Board's Morris Memorial Building and helped to raise over $10,000 for the Tennessee Baptist Missionary Education Convention's educational programs. She belonged to several civic organizations, including the Women's Auxiliary of the Nashville Medical Association and the National Association for the Advancement of Colored People.
Willa A. Townsend died on Sunday morning, May 25, 1947. Her funeral was held on May 30, when the president of the National Baptist Convention, U.S.A., the mayor, and other public officials and religious leaders paid their final respects to this educator. hymnologist, music director, civic and social leader. Willa Townsend is interred in the Townsend Mausoleum in Nashville's Greenwood Cemetery.