MARY CHURCH TERRELL (1863-1954)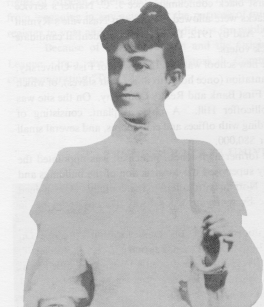 Mary Church Terrell, one of the early women of color engaged in lecturing and other activities for recognition of women and Negroes, was born in Memphis on September 23, 1863, the year of the Emancipation Proclamation. Her father, Robert R. Church, Sr., a pioneer Memphis businessman, was married twice. Mary, known to members of her family as "Mollie," and her brother were born during the first marriage to Louisa, which terminated in divorce when the children were very small. Robert, Jr., and his sister, Annette, were born during the second marriage to Anna (Wright) Church.
Because of limited educational facilities in Memphis at the time, while very young she lived with close family friends in Yellow Springs, Ohio, to attend a "Model School" connected with Antioch College. Subsequently, she attended public schools in Ohio, Oberlin Academy, and enrolled in the four-year "Classical" or "Gentleman's Course" at Oberlin College, Oberlin, Ohio, being graduated in 1884. Mary completed her education by spending two years in Europe, studying French, German, and Italian languages.
In 1891, Oberlin College offered her the position of registrar of the school, including faculty position, but she declined the offer because of her forthcoming marriage. During its centennial celebration in 1933, Oberlin recognized her as one of its one hundred outstanding alumni. In 1948, Oberlin conferred upon her the honorary Doctorate of Humane Letters.
After being graduated from college, Mary returned to Memphis and lived for a year with her father, who discouraged her interest in teaching there. He did not object when she accepted a position as a member of the faculty of Wilberforce University at Xenia, Ohio. She left Wilberforce to accept a teaching position at the M Street High School in Washington, D. C., where she met her future husband.
On October 18, 1891, in Memphis, Mary married Robert Heberton Terrell (1857-1925) at the family home, 384 South Lauderdale Street, where the ceremony and reception took place. Annette Church was the Dower girl and Robert Church, Jr., was the ring bearer.
Robert Terrell was a graduate of Groton Academy, Groton, Massachusetts, and a magna cum laude graduate in the class of 1884 of Harvard University, Cambridge, Massachusetts. He was graduated as valedictorian of his 1889 class at Howard University Law School, Washington, D. C., and received a master's degree in law from Howard in 1893. Terrell taught at the M Street High School in Washington, and later practiced law with John R. Lynch, a former member of the U. S. House of Representatives from Mississippi. He practiced law until he received four successive four-year Presidential appointments as judge of the Municipal Court of the District of Columbia, where he remained until ill health forced him to retire.
The Terrells were parents of two children. Phyllis and adopted daughter Mary (deceased). There were no grandchildren.
After her marriage, Mary Church Terrell made her home in Washington and maintained a summer home at Highland Beach, Maryland, which she built next to the home of Frederick Douglass. She became active in the feminist movement, founding a women's club, the Colored Woman's League, in Washington in 1892. This organization merged with the National Federation of Afro-American Women in 1896 and adopted the name National Federation of Colored Women. Mary Church Terrell was elected the first president.
She was a popular speaker and lecturer and wrote many articles denouncing segregation. Her appointment to the District of Columbia Board of Education in 1895 was a first in America for a woman of color. She resigned in 1901, was reappointed in 1906, and held the post until 1911. In 1909, she was one of two Negro women (Ida B. Wells-Barnett was the other and both were former Memphians) invited to sign the "Call" and be present at the organizational meeting of the National Association for the Advancement of Colored People, thus becoming a charter member of the national organization. She assisted in the formation of the Delta Sigma Theta Sorority at Howard University in 1914, accepted honorary membership, and wrote the Delta Creed, which outlined a code of conduct for young women. In World War One, she was involved with the War Camp Community Service, which aided in the recreation and, later, the demobilization of Negro servicemen. She worked in the suffrage movement, which pushed for enactment of the Nineteenth Amendment to the Constitution.
Mary Church Terrell was involved in the international women's movement on three occasions. She represented colored women on the American delegation to the International Congress of Women at Berlin in 1904 and was the only women to deliver her address in English, German, and French. Her theme was equal rights for women and Negroes wherever they may be found. In 1919, she received international recognition as a speaker on the program at the Quinquennial International Peace Conference in Zurich, and in 1937 she delivered an address before the International Assembly of the World Fellowship of Faith in London. In 1940, she wrote her autobiography, A Colored Woman In A White World.
At age 89, she marched with her cane at the head of a picket line, carrying her sign to desegregate Kresge's store and Thompson's restaurant with members of the Coordinating Committee for the Enforcement of the District of Columbia Anti-Discrimination Laws. The Smithsonian Institution acquired from her family a full-length oil portrait of her, which it displays periodically at its National Portrait Gallery in connection with her activities in the feminist and civil rights movements.
On July 24, 1954, Mary Church Terrell died at age 90, after a brief illness at Anne Arrundel General Hospital, Annapolis, Maryland, a short distance from her summer home at Highland Beach.