TENNESSEE STATE UNIVERSITY (1912- )

In 1909, the Tennessee General Assembly authorized a state normal school (teacher training institution) for each grand division of the state and one for Tennessee's 472,987 "colored people." As cities and towns competed for placement of these schools, the leaders of Afro-American Nashville used their influence to have the black school built in Davidson County.
During the campaign for the state normal school, Nashville's Negro Board of Trade gave its support. Benjamin Carr organized the Colored Agricultural and Industrial Association as an official lobby group. Preston Taylor, the wealthy black undertaker, solicited funds door to door. Leaders like W. S. Ellington, Henry Allen Boyd, T. Clay Moore, and James C. Napier appeared before numerous legislative sessions until black Nashville received the support of the governor and the mayor. The Davidson County Court also agreed to provide an appropriation to help build the school. At the end of 1910, it was decided that the school would be built in Nashville, not in Chattanooga.
The campaign for the new school took place in a period of growing black influence in Nashville. In January of 1911, Benjamin Carr, formerly of Hickman County, became the Negro advisor to newly-elected Republican Governor Ben W. Hooper, and in February President William Howard Taft appointed James C. Napier Register of the U. S. Treasury. In September of 1911, a heavy black voter turnout elected black attorney Samuel P. Harris to the city council; he was Nashville's first black councilman since J. C. Napier's service ended in 1885. In November of 1911, blacks were allowed a section in Nashville's Ryman Auditorium to hear President Taft speak. And by 1912, Democratic presidential candidate Woodrow Wilson was counting local black voters.
Meanwhile, the site selected for the new school was two miles west of Fisk University. It consisted of a part of the old Hadley plantation (once home to thirty-four slaves), of which sixty-seven acres of land were sold by the First Bank and Realty Company. On the site was a former Civil War redoubt called Zollicoffer Hill. A physical plant, consisting of dormitories for girls and boys, a main building with offices and classrooms, and several small farm buildings were built at a cost of over $80,000.
Chattanooga's William J. Hale, a former high-school principal, was appointed the principal of the new school. He personally supervised the construction of the buildings and the organization of the Tennessee State Normal curriculum. Incidentally, Hale gained acceptance from clannish black Nashville by marrying a local girl, Hattie Hodgkins, in November of 1913.
On June 21, 1912, the school's doors opened to summer-session students. On September 20, the fall term began with 300 students. On February 7, 1913, Booker T. Washington toured the facility and praised its cleanliness, a move that further solidified local white support for Hale. The first commencement exercise took place on May 23, 1913, and the formal dedication ceremonies were held on November 11, 1913.
In June of 1924, Tennessee Agricultural and Industrial Normal School for Negroes granted its first college degree. President Hale resigned in 1943 and was followed by presidents Walter S. Davis (1943-68), Andrew P. Torrence (1968-74), and Frederick S. Humphries (1974-1985).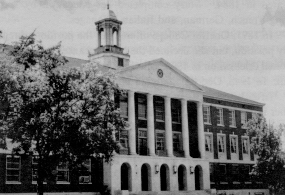 In 1979, under federal court order, the institution merged with the University of Tennessee's Nashville branch and became the expanded Tennessee State University. By becoming a comprehensive, doctoral degree - granting institution, Tennessee State University gained new presidential leadership: Roy Peterson (acting, 1985-1986), Otis L. Floyd (1986-1990), George W. Cox (acting, 1990-91), and James A. Hefner (1991 to present).