KELLY MILLER SMITH, SR. (1920-1984)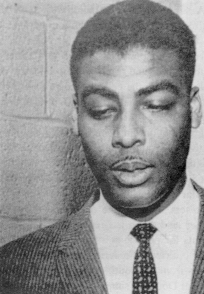 Kelly Miller Smith was born October 28, 1920, in the all-black town of Mount Bayou, Mississippi, to Terry Monroe and Priscilla (Anderson) Smith. He received his early education in Mound Bayou and was graduated in 1938 from the Magnolia Avenue High School in Vicksburg, Mississippi. Later in 1938, Smith entered Tennessee Agricultural and Industrial State College. After being called to the ministry, however, he transferred to Morehouse College and completed the bachelor's degree in religion by 1942. Smith furthered, his education at Howard University, where he earned the Master of Divinity degree and from which he later (1976) received an honorary doctorate degree.
The Reverend Smith served as pastor for the Mount Heroden Baptist Church congregation in Vicksburg, Mississippi, from 1946 to 1951. In May of 1951, he became pastor of Nashville's First Colored Baptist Church (First Baptist Church, Capitol Hill) on Eighth Avenue, North. At this church Smith spent the remainder of his life, building a magnificent new church edifice in 1972, inaugurating new programs, and completing the Kelly Miller Smith Towers, a high-rise apartment complex for the elderly, in 1980.
When the U. S. Supreme Court handed down its Brown versus Topeka Board of Education (1954) decision against school segregation, Smith was president of the Nashville chapter of the National Association for the Advancement of Colored People (NAACP). In 1955, he joined twelve other black parents in a federal suit to achieve desegregation in Nashville public schools.
In 1958, the Reverend Smith founded the Nashville Christian Leadership Council and served as president until 1963. This organization sponsored the nonviolent role in desegregating Nashville's lunch counters, hotels, and theaters. Smith, a strong advocate of nonviolence, believed that Americans would be more sympathetic to black rights if blacks obtained their rights through peaceful demonstration instead of through the judicial system. In his efforts to promote educational and economic parity for black Americans, Smith also founded a local chapter of the Opportunities Industrial Center, Incorporated, in 1969.
In the same year, he was appointed assistant dean of Vanderbilt University's Divinity School. Smith also served on the faculties of Natchez College, Alcorn College, and American Baptist Theological Seminary. Other honors he received included being chosen one of Ebony magazine's "Ten Most Outstanding Preachers in America"; one of Nashville magazine's "Ten Most Influential Citizens" in 1977; the president of the National Conference of Black Christians; a member of the board of directors for Morehouse College's School of Religion; a member of the Faith and Order Commission of the World Council of Churches; and a founder of the Southern Christian Leadership Conference.
In 1983, Dr. Smith delivered the prestigious Lyman Beecher Lectures at Yale University. These lectures served as the basis for his final publication, Social Crisis Preaching (1984). Following Kelly Miller Smith's death in 1984, he was interred in Nashville's Greenwood Cemetery.