WALTER CALDWELL ROBINSON (1893-1968)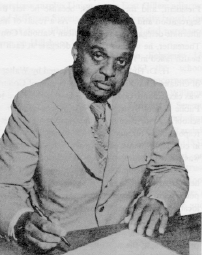 Walter Caldwell Robinson was born the son of sharecroppers in Larkinsville, Alabama, on July 17, 1893. His family, which lived in Alabama, worked the farm of a white man until Walter was nine years old.
Walter's parents, Joseph and Elizabeth Robinson decided to move to Chattanooga, Tennessee, when he was nine, seeking better employment and educational opportunities for their children. In Chattanooga their economic status improved, but, due to segregation and discrimination, their "plight" remained bleak.
In spite of these despairing circumstances, the children -- Floyd, Monroe, Jessie, Rosa, Fannie, Amanda, and Walter C. Robinson -- were able to lift themselves to a high level of participation in a tightly segregated society.
Walter Robinson showed signs of becoming a businessman and leader at an early age. At age eleven, he secured employment in a foundry and by age sixteen was operating a laundry business of his own. He married one of his neighbors and classmates, Cora Adair. To this marriage were born seven children: Evelyn, Marian, Walter, Jr., Jesell, Camille, Lucille, and Alma Lee.
Walter, Cora, and their children were very active members of the Second Missionary Baptist Church. Robinson became president of the Baptist Young People's Union soon after joining the church. At age twenty-one, he became a trustee of his church. Robinson was an asset to the church because he was able to influence outstanding ministers to accept the pastorship of the church. After becoming a politician, Robinson was able to raise large sums of money for religious undertakings by asking wealthy whites for donations. He began attending the meetings of the city's fourth ward. Because of the interest he exhibited in ward, local, and national politics, as well as his leadership ability? he was elected chairman of the fourth ward by defeating Hiram Tyree, who had been ward leader for many years.
Walter Robinson was quite successful in creating interest and participation among black citizens. In a short while his influence spread throughout Chattanooga and Hamilton County. He organized the chairmen of all the black wards and established the Colored Voters League of Greater Chattanooga to gain recognition for blacks through a united political group. In 1926, the National Republican Executive Committee selected Robinson to conduct a campaign tour of northern and northwestern states. In his address, Robinson encouraged blacks to support the Republican national candidates for President, Vice President, and the Congress, because he felt that this was the best avenue for ending segregation and discrimination. As a result of his political involvements, he was chosen as alternate delegate to the Republican National Convention in Kansas City, Missouri, in 1928. Thereafter, he was an alternate delegate at each National Republican Convention until his health failed in 1963.
H. D. Huffacker was supported by Walter Robinson and the Colored Voters League of Greater Chattanooga for the position of Commissioner of Education in 1997. Huffacker was elected and, once in office, gave Robinson a job as a truant officer for the Chattanooga Public School System. He was responsible for seeing that black boys and girls attended school. Also, because of his leadership ability and influence, Robinson was given the responsibility for suggesting the blacks to be hired as teachers, janitors, and other positions in city departments. Robinson worked in this capacity until a candidate whom he opposed was elected Commissioner of Education in 1935.
Then Robinson began full-time work for the success of the newspaper business, which he started in 1933. This newspaper (The Chattanooga Observer) was initiated for the purposes of expressing his views to benefit the Republican party and to defeat candidates in local elections when Robinson felt they were not the best candidates for the good of the black citizens.
Robinson was continually elected chairmen of the fourth ward until urban renewal programs split the ward in 1959. He also was continually elected chairman of the Colored Voters League of greater Chattanooga until his death in 1968.