Dr. Thomas E. Poag Biographical Information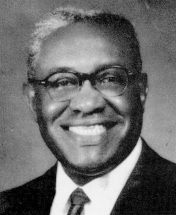 Thomas Edward Poag (1907-1974), writer, director, producer, critic, actor, lecturer, administrator, and teacher, was called by Clara Hieronymus, Theatre Critic/Reviewer for the (Nashville) Tennessean, "a walking, talking, landmark, a historical site in human form whose personal history has many parallels in theatre history".
Dr. Poag was born in Gastonia, North Carolina. He received the A.B. degree from Morgan State College, the M.A. degree in Dramatic Art from Ohio State University, and the Ph.D. degree in Drama, Theatre, and Speech from Cornell University- the first African American in history to receive the M.A. and Ph.D. degrees in drama and the theatre. In 1933, he appeared in the motion picture, "The Emperor Jones", based on the classic American play by Eugene O'Neill. Both the play and motion picture featured the legendary artist/activist Paul Robeson.
Dr. Poag devoted his entire career to the field of communication via speech, drama, and theatre. While at Ohio State he founded the Civic Theatre Guild in Columbus and served as its director and producer. His distinguished career at Tennessee State University began in 1939. During his tenure, he organized the Department of Speech and Drama; founded the Tennessee State Players Guild, now called the T.E. Poag Players Guild; directed numerous stage productions; three times took his actors on international tours of military installations under the sponsorship of the American Educational Theater Association, United Service Organizations, Inc. (USO), and the U.S. Department of Defense: (1960 - Newfoundland, Labrador, Greenland, the Azores, Bermuda; 1965 - Germany and France; 1970 - Germany, Belgium, Holland, Italy).
As playwright, Dr. Poag created three symphonic dramas: "The Golden Heritage (the TSU Story); "The Z. Alexander Looby Story"; and "The Clark Memorial United Methodist Church Heritage". As academician, he became Chairman of the Speech and Drama department and Dean of the School of Arts and Sciences at Tennessee State University. Dr. Poag once stated that his "biggest reward has been in sending out worthwhile students to work in the field of dramatic art and stimulate interest in it among Black people".
Among Dr. Poag's former students are Oprah Winfrey, Academy Award nominee (Best Supporting Actress, 1986, for the film, The Color Purple ), broadcast journalist, Emmy Award winning television talk-show host, entrepreneur, and philanthropist; Moses Gunn, distinguished stage, screen, television actor, and playwright; Helen Martin, Broadway, film, and television actress; Ellwoodson Williams, playwright and actor; and Joan Pryor, professional actor in New York.
Numerous students of Dr. Poag have completed advanced degrees, and many have received the terminal degree. These distinguished TSU alumni include: S. Allen Counter,
internationally-acclaimed scientist, explorer, physician, professor, and director of the Harvard Foundation; Leo Branton Jr., civil rights, defense, and entertainment lawyer representing noted personalities such as Nat "King"Cole, Dorothy Dandridge, Miles Davis, Angela Davis, the Black Panthers, Jimi Hendrix, and Richard Pryor; Singer Buchanan, former chair, Department of Speech and Drama, Kentucky State University, who succeeded his mentor as chair of the TSU Department of Speech and Drama; Ernest J. Moore, professor of audiology, Michigan State University; and Sandra Holt, Director, TSU Honors Program.