J. FRANKIE PIERCE AND THE TENNESSEE VOCATIONAL SCHOOL FOR COLORED GIRLS (1923-1979)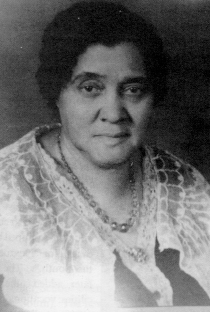 Frankie Pierce was born during or shortly after the Civil War to Nellie Seay, the house slave of a Smith County legislator. Frankie received her education in John G. McKee Freedmen's School in Nashville. She married and left Nashville, returning at the death of her husband with a mission of her own in mind: to found an institution for delinquent colored girls.
J. Frankie Pierce supposedly received the inspiration for establishing such a school by observing this nature in other southern states. She also was influenced by her friendship with a probation officer, who reluctantly took delinquent black girls to jail because the law would not permit them to enter white institutions.
Mrs. Pierce soon set about the task of laying a foundation of support, organizing the City Federation of Colored Women's Clubs and the Negro Women's Reconstruction Service League. She was a leading member of First Colored Baptist Church (Capitol Hill). After extensive lobbying, the Tennessee Vocational School for Colored Girls bill was passed by the General Assembly on April 7, 1921, and the school opened its doors on October 9, 1923. Frankie Pierce became its first superintendent, a position she held until 1939.
Located at 2700 Heiman Street, the school had a sixty-six-acre campus and employed an average of sixty-nine workers. Girls twelve to fifteen years old were received from across the state and were released through the Division of Juvenile Probation. The school was approved through the ninth grade and included academic and vocational training.
Frankie Pierce was a women with vision, and through her perseverance, determination, and courage, she provided the leadership to make that vision a community reality. She was "an untiring worker, a great politician" for her people. Some who knew this woman took pride in how she led her club members in a march on city hall in protest of the racial segregation of public facilities at a time prior to the civil rights movement J. Frankie Pierce died in 1954.
Mattie Coleman served as the vocational school's second superintendent until her death in 1943. She promoted the school's choir, which performed at religious services and area concerts. During Coleman's tenure, the girls attended Haynes High School; one of them became the valedictorian and one the salutatorian of their graduating classes. During this time, Laura Deaderick became the principal of the academic program at the vocational school.
In 1943, Mattie Flowers became the school's superintendent. Under her leadership, the girls received all of their education on the campus. The elementary grades were certified; a psychologist joined the staff, in conjunction with the Tullahoma School for White Girls; and a chaplain and a full-time religious curriculum were added. The State Board of Licensing for Cosmetology was located on the campus and hundreds of young women often gathered to be licensed.
In 1953, Dorothy Read became the head of the school. The Interdenominational Ministerial Alliance of Nashville became interested, and many local ministers became involved with the school. Read's administration added Read Hall and sought to attract highly trained employees and volunteers.
In 1960, Virginia Edmondson became superintendent. During her tenure, a program of behavioral modification was started; spiritual, educational, and physical programs were expanded; and affiliations with local and national professional organizations were explored. The focus was on preparing students to return to the community as homemakers. Meharry Medical College supplied professional help for the staff and students, and the Tennessee Agricultural and Industrial State College supported the recreational program. In 1966, the school was integrated, and Pierce Hall was built. Edmondson retired in 1967 to become a psychiatric nurse.
Marlene Howlett served as superintendent from 1967 to 1971. The high school was accredited and teachers' salaries were equated with those of public-school teachers. A director of religion was added, and a chaplain was hired in conjunction with the Joelton School for Boys. The first white student was sent to the all-black Pearl High School; she commuted daily with the superintendent's husband, who taught there. Students enjoyed the additions of an annual field day, a Sweethearts' Ball, dramatic performances, and a Girl Scout troop. Sammie Mitchell became superintendent in 1971.
The Tennessee Vocational School for Girls was renamed the Tennessee Reception and Guidance Center for Juveniles before it closed in 1979.