JAMES C. NAPIER (1845-1940)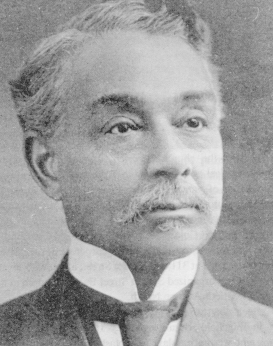 James C. Napier was born of free parents on June 9, 1845, in Nashville, Tennessee. His father, William Carroll, was a free hack driver and a sometime overseer. James attended the free blacks' school on Line and High Street (now Sixth Avenue) with some sixty other black children until white vigilantes forced the classes to close in 1856. Although the teacher, Daniel Wadkins, a free black, reopened the school, the December of 1856 race riot caused a temporary end to black education in Nashville until the Union occupation in February of 1862. After the riot, the Napier family and several other moderately wealthy free black families either moved or sent their children to Ohio to continue their children's education under free black teacher Rufus Conrad.
Upon returning to the Union-held city of Nashville, James Napier became involved in Republican party politics, John Mercer Langston, an Ohio free black who became a powerful Republican politician and congressman, was a friend of Napier's father. Langston visited Nashville on December 30, 1864, to speak to 10,000 black Union troops, who had taken part in the recent and victorious Battle of Nashville, and to address the second Emancipation Day Celebration. He later invited James to attend the newly opened law school at Howard University in Washington, D. C., where he was founding dean. After receiving his law degree in 1872, James returned to practice in Nashville. In 1873, he married Dean Langston's daughter, Nettie. This wedding was the biggest social event in nineteenth-century black Washington.
Between 1872 and 1913, James C. Napier became Afro-American Nashville's most powerful politician and its most influential citizen. Between 1878 and 1886, he served on the Nashville City Council and was the first black to preside over the council. He was instrumental in the hiring of black teachers for the colored public schools during the 1870s, the hiring of black "detectives," and the organization of the black fire-engine company during the 1880s. His greatest political accomplishment was his service as President William H. Taft's Register of the United States Treasury from 1911 to 1913.
Napier also was a successful businessman and a personal friend of Booker T. Washington. Margaret Washington was a personal friend of Nettie Langston Napier and often spent two or more weeks each summer at the Napier's Nolensville Road summer home. Washington visited the city several times a year until his death in 1915. Napier was elected president of the National Negro Business League, which Washington had founded. The League held several of its annual meetings in Nashville, and Napier organized a local chapter of the League in 1905. He was a founder and cashier (manager) of the One Cent (now Citizens) Savings Bank organized in 1904, and he gave the new bank temporary quarters rent-free in his Napier Court office building at 411 North Cherry Street (now Fourth Avenue). He helped organize the 1905 Negro streetcar strike and the black Union Transportation Company's streetcar lines. He presided over the powerful Nashville Negro Board of Trade and was on the boards of Fisk and Howard universities. Upon his death on April 21, 1940, James Carroll Napier was interred in Greenwood Cemetery near members of his family and members of the Langston family.