McKISSACK AND McKISSACK ARCHITECTS (1905- )
Nashville's McKissack and McKissack architectural firm has designed thousands of facilities since the early twentieth century.
The first Moses McKissack, of the Ashanti tribe of West Africa, was sold into bondage to William McKissack. As a slave, he learned to be a master builder. In 1822, he married a Cherokee Indian woman named Mirian. Gabriel Moses, one of fourteen children, was born on November 8, 1840, and continued in the trade learned from his father, who died in 1865. Moses McKissack, III, was born on May 8, 1879, to Gabriel and Dolly Ann McKissack in Pulaski, Tennessee.
When Gabriel began his business in Pulaski, builders were often responsible for designing their structures. Moses III learned these skills from his father and received his formal education at the Pulaski Colored Hugh School. In 1890, Moses worked for an architect in Pulaski, drawing, designing, and assisting with building construction. From 1895 to 1902, he worked as a construction superintendent and built houses in Pulaski, Mt. Pleasant, and Columbia, Tennessee.
In 1905, Moses came to Nashville to construct a residence for the dean of architecture and engineering at Vanderbilt University. He was hired to design and build other residences in the West End area. That year, he opened his first office in the Napier Court Building.
McKissack's first major commission in Nashville was the Carnegie Library on the Fisk University campus, a massive two-story stone building with an interior light well. In 1908, Secretary of War William Howard Taft laid the cornerstone of this building, one of the first major structures in America designed by an Afro-American architect.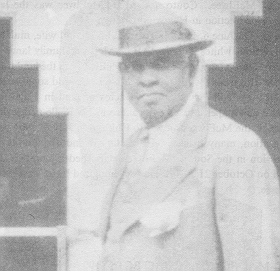 McKissack began to officially advertise as an architect in 1909; the city directory listed him as a "colored architect," along with eighteen other architects in the city. By 1920, McKissack was designing buildings for clients in all sections of the city, and his reputation spread throughout l the state. One of his more significant residences was the Hubbard House at ll09 First Avenue, South (listed in the National Register of Historic Places in 1973).
Moses was assisted in most of his pursuits by his younger brother, Calvin Lunsford McKissack, who was born on February 23, 1890, in Pulaski. He spent three years at Barrows School in Springfield, Massachusetts' and attended Fisk University from 1905 to 1909. Like his brother, Calvin received his architectural degree through an international correspondence course.
In 1912, Calvin McKissack opened an independent practice in Dallas, Texas, and constructed dormitories and churches throughout the region. From 1915 to 1918, he was superintendent of industries and teacher of architectural drawing at the Tennessee Agricultural and Industrial State Normal School. After 1918, he was the director of the industrial arts department of Pearl High School. He was the first executive secretary of the Tennessee State Association of Teachers in Colored Schools, resigning in 1922 to join his brother as partner in the firm of McKissack and McKissack. They were among the first registered architects in the state when the registration law was put into effect in 1921.
In 1924, the fun received a contract from the National Baptist Convention, U. S. A, Inc., to design the Morris Memorial Building on Charlotte Avenue. McKissack and McKissack moved into space on the first and second floors, where the firm still maintains its offices.
The firm received contracts to design several school buildings for Nashville: Washington Junior High, 1927; Pearl High, 1936; and Ford Green Elementary, 1937. They also designed the Tennssee State University Memorial Library (1927) and other buildings on that campus. The firm was chosen in 1929 to build the new company headquarters for the state's only black insurance company, Universal Life of Memphis. Other McKissack buildings included the C. M. E. Publishing House in Jackson and the A. M. E. Publishing House in Nashville. These buildings, demolished in the late 1970s, represented the firm's expertise in the Art Deco style.
The McKissacks received several federal Works Progress Administration contracts to design public educational facilities in the late 1930s. In 1941, Alabama granted the firm a business license, and in 1943 licenses were granted in Georgia, South Carolina, Florida, and Mississippi. The McKissacks received national recognition in 1942, when they secured a contract for the 99th Pursuit Squadron Air Base in Tuskegee, Alabama--the largest contract ever granted by the federal government to an Afro-American company. Moses and Calvin McKissack received the Spaulding Medal, given to the outstanding Negro business firm in the country. During Franklin Roosevelt's administration, Moses was appointed to the White House Conference on Housing Problems. The firm was involved in the design of several housing projects, one of which was the College Hill development in northwest Nashville.
Moses McKissack, III, died on December 12, 1952. Calvin became the president and general manager of the firm, remaining until his death in 1968. The reins of the company then fell to Moses III's son, William DeBerry McKissack, who continued the family tradition until illness forced him to retire. McKissack and McKissack Architects, Inc., with offices in Nashville, Memphis, and Tuskegee, currently is directed by Leatrice McKissack, the wife of William McKissack.
In recognition of Moses McKissack III's contributions, the city has named an elementary school and a small park in his honor.