SAMUEL A. McELWEE (1857-1914)
Former slave Samuel A. McElwee became a lawyer and the most powerful Republican party leader in Haywood County during Reconstruction. He served in the Tennessee General Assembly for three terms: 1882-1888.
McElwee was born in Madison County, Tennessee, to Robert and Georgianna McElwee. During the general movement of former slaves, the McElwee family relocated to Haywood County in 1866. Samuel attended local freedmen's schools and Oberlin College in Ohio before starting a teaching career in Alabama, Mississippi, and Tennessee. He entered Fisk University in 1878 and was graduated in 1883 at age twenty-six. McElwee represented Haywood County at the 1884 Annual State Colored Men's Convention in Nashville. While serving in the legislature, McElwee attended Nashville's Central Tennessee College's law school and obtained his law degree in 1886. In Haywood County, his political base, McElwee practiced law, operated a grocery store, and dabbled in real-estate transactions.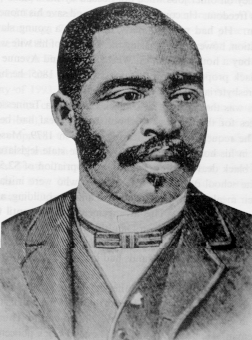 McElwee's political career began in 1882, when he won election to the Tennessee General Assembly. Three other black men, all fellow Republicans, won election to the legislature. Young McElwee had the benefit of the experiences of other black men who previously had served in the General Assembly: Davidson County's Sampson W. Keeble had won election in 1872; Thomas A. Sykes also had won a seat from Davidson County in 1880. Moreover, during the period 1880-1883, predominantly black Haywood County had other blacks who held public offices: Green Estes, county trustee, and William Winfield, registrar.
McElwee became a notable orator in the General Assembly, where he fought constantly for equal educational opportunities for the freedmen. He also worked with his fellow black legislators to defeat bills involving Jim Crowism and contract labor.
McElwee's political career came to an abrupt end in 1888. The white Democrats and Conservatives used fraud, intimidation, and terrorism to take the elections in the heavily black areas of Haywood and neighboring Fayette counties. McElwee received less than 600 votes and was forced to flee, as a group of brave black men guarded his exit.
Determined that they would not be ruled by "Negroes and Republicans," the conservatives, the radical whites, and the neo-Confederates began to "redeem" Tennessee government in 1879 through poll taxes, terrorism, and intimidation of blacks at the polls. The Tennessee General Assembly passed the South's first Jim Crow law in 1881. By 1888, although Haywood County blacks outnumbered the whites, the blacks stayed away from the polls rather than pay the poll tax and risk losing their sharecrop jobs. From that point through the 1960s, the whites continued to use economic reprisals, domination of land ownership, illegal manipulation of court records (deeds), lynchings, and outright terrorism to keep the Racks in Haywood and Fayette counties under control and away from the polls.
In his book, Lifting the Veil: A Political History of Struggles for Emancipation (1993), former Tennessee State University Professor Richard A. Couto focused on Haywood County and discussed the career of McElwee. Couto noted that McElwee was the last African American to win a county-wide election in Haywood County.
McElwee settled in Nashville. On June 6, 1888, he married his second wife, mulatto Georgia M. Shelton. To keep the vicious whites from taking the McElwee family lands in Haywood County (as they effectively did to many black families), McElwee hid the land titles under the name Georgianna Shelton (his nearly white mother-in-law). He sold some of the lands, but as late as 1900 the McElwees still owned some 95 acres of land in Haywood County. After briefly establishing a newspaper and a law practice in Nashville and losing four of his six new children in infancy, the McElwees moved to Chicago in July of 1901. At that time of Black Northern Migration, many blacks were heading to industrial cities to escape white terrorism and oppression in the South. McElwee established a lucrative law practice in Chicago, where he died on October 21, 1914. He was eulogized by at least three newspapers in Illinois and Tennessee.