SAMUEL R. LOWERY (1832-1900?)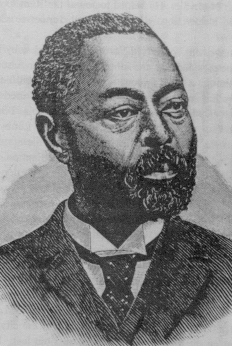 Samuel R. Lowery was born to Peter and Ruth flowery on December a, 1832. Ruth Lowery died in 1840, leaving Samuel to be reared by his father.
Samuel's father, Peter, was born a slave but purchased his freedom. He operated a hack business at 96 N. Cherry (Fourth Avenue, North) Street and worked as a farmer, a livery stable operator, and a janitor at Franklin College. The Reverend Talbot Fanning, white proprietor of the Franklin College, tutored Peter and Samuel. Peter became the pastor of the Colored Christian Church (today's Gay Lea Christian Church), which had been organized in 1855 by the white Vine Street Christian Church. Peter also was a founder of the Colored Agricultural and Mechanical Association, a member of the board of trustees for Nashville's Freedman's Savings and Trust Company Bank, and organizer of Christian Church (Disciples of Christ) congregations at Bristol, Caperville, Knoxville, and Trenton. He also became a real-estate dealer in Civil War Nashville.
In 1848, Samuel became a Christian Church minister. Later, in December of 1856. his life and the lives of local free blacks were drastically changed, because the debate over slavery during the 1856 presidential campaign caused a local race riot in which immigrants and poor whites vented their latent resentment of wealthy free blacks by attacking them and their businesses. The free blacks' school, which had been operating since 1839, was ordered closed for good by the city and white vigilantes. Two dozen blacks were jailed but later released. Fearing for their safety, several free black families, the Lowerys among them, went to the North. In 1857, Samuel became the pastor of the Harrison Street Christian Church in Cincinnati, Ohio. By 1859, Samuel was organizing Christian Churches in Canada.
Union occupation of Nashville (1862-66) allowed black Nashville to flower again, and Samuel Lowery was one of the exiled free blacks who returned to the city. He became a Christian Church missionary, chaplain for the 9th U. S. Colored Artillery Battalion, and teacher for the 2nd U. S. Colored Light Artillery, Battery A troops. Between 1865 and 1875, Lowery was involved with the State Colored Men's Conventions, the National Emigration Society, and the Tennessee State Equal Rights League. He studied law under a white attorney in Rutherford County and began a law practice.
On December 10, 1867, Samuel Lowery and his father, Peter, founded Tennessee Manual Labor University, with Peter Lowery as president. Like the former white Franklin College, the school was designed to teach agriculture, mechanical arts, and Christian ethics to freedmen. It was located in frame buildings in a black settlement called Ebenezer, on Murfreesboro Road near Smyma. Samuel Lowery and Daniel Wadkins traveled north to raise funds for the school. However, questions arose concerning financial impropriety on the part of the Reverend Wadkins, who had collected $1,632 and took all but $200 of it in expenses. Apparently Samuel Lowery, not Wadkins, bore the brunt of the blame. The white Christian Church (Disciples of Christ) refused to support the school and excommunicated Samuel Lowery. Around 1872, the Tennessee Manual Labor University ceased to function.
In 1875, Samuel Lowery moved to Huntsville, Alabama, where he established Lowery's Industrial Academy, which won first prize for its silk at the 1884 World's Fair. A group of businessmen financed his Birmingham Silk Culture Company. Later, he founded the S. R. and R. M. Lowery Industrial Silk Culture and Manufacturing Company. On February 2, 1880, Lowery was admitted to the bar of the U. S. Supreme Court. In the 1880s, he established a cooperative community, Loweryvale, in Jefferson County, Alabama, where he died around 1900.