CRAWFORD B. LINDSAY, SR. (1905-1988)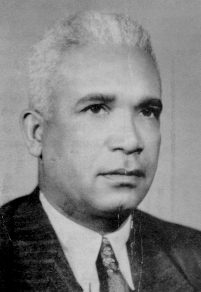 Crawford B. Lindsay was a notable college professor and a leading educator. He was born in Birmingham, Alabama, on October 19, 1905, to Charles Bernard and Hettie (Hill) Lindsay. Among four of their children, only Crawford and a younger brother, Henry Lewis, survived. Hettie died when Crawford was five years old and Henry at one year of age. After being reared by Aunt and Uncle Henry E. and Carrie Hill, young Crawford completed Talladega College in 1927 and assumed a teaching position in English at Dillard High School. He also coached basketball and met his wife, Rachael Darden, at Dillard High School. Rachael and Crawford had three children: Henry H., Crawford, Jr., and Hettie Jane. After receiving a master's degree from the University of Michiganin 1930, Crawford Lindsay held a professorship at Morehouse College in Atlanta from 1931 until 1941. Then Lindsay accepted a position at Tennessee A. & I. State College in Nashville, Tennessee.
Recruited by Walter S. Davis, Lindsay was among a class of highly qualified faculty members who arrived during the 1940s to convert the institution into a university. Lindsay later completed his doctorate in English at Cornell University at Ithica, New York, and obtained a law degree from the Nashville School of Law, which held evening classes in the YMCA.
Although he was typical of Nashville's rising black middle class after World War Two, Lindsay contributed greatly to the foundation upon which local blacks would stand during the 1960s and '70s. His three children completed colleges and universities, including Tennessee State University and Meharry Medical College, and entered professions in teaching and medicine. Lindsay, like the dedicated black professors of his time, also helped to produce many black graduates who successfully entered America's professional life. By the time of his death in Nashville on May 13, 1988, Crawford B. Lindsay, college professor, had served as a model example of Nashville's black intelligentsia.