KNOXVILLE COLLEGE (1875- )
Knoxville College was founded in 1875 by the Board of Freedmen's Mission of the United Presbyterian Church. The church had started educational missions among the freedmen in 1864, and they were located in Mississippi, Louisiana, and Tennessee.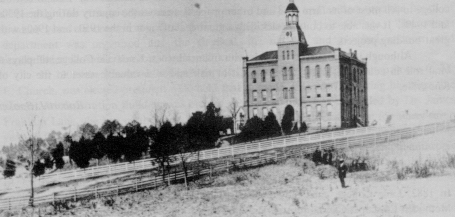 In 1872, Southern states passed legislation to provide some form of education for black children. Since so few black teachers were available, the church that year passed a resolution to discontinue its missions and to concentrate all its educational efforts in a good normal school to train teachers.
After a trip through the Carolinas, Alabama, Mississippi, and Tennessee, the site selection committee was convinced that Knoxville offered the best opportunity for such a school. It had a healthful climate, good transportation facilities, and a fairly large black population, as well as too few schools.
Dr. John S. McCulloch became the first president of the Knoxville College in 1877. In order to have a supply of college students, the school organized an elementary department and a high-school department to feed the college department. It graduated its first two college students in 1883.
In 1895, Knoxville College organized a medical department to train physician Unfortunately, it never was properly staffed or financed to carry on the work of an accredited medical school. It graduated only two students in 1900 and closed later that year.
Knoxville College had more success with its hospital, which opened in 1907. It was the only hospital within 200 miles of Nashville or Atlanta where Black doctors and nurses could practice their professions. Knoxville General Hospital did not accept black physicians or nurses on its staff. When the Knoxville College Hospital opened, there were only seven black physicians in the city; by the time it closed in 1926, there were twenty. It offered a modern setting for black patients, who were treated in a basement ward at General Hospital.
The college discontinued its elementary department in 1927 and the high-school department in 1931 to fully concentrate on college work. College work, of course, included operating a large farm and maintaining a dairy herd. The most popular department was perhaps the music department with its various quartets and octets, which traveled extensively to boost the recognition of the college.
The effects of the Great Depression and the effects of World War Two forced the college to sell most of its farm land and other properties across the country during the 1930s and 1940s. It was able to bounce back with a great deal of vigor in the 1950s and 1960s with great building projects.
Although it continues to struggle with financial woes, Knoxville College still plays a vital role in educating those students most at risk and is a valuable asset to the city of Knoxville.