JULIA A. B. HOOKS (1852-1942)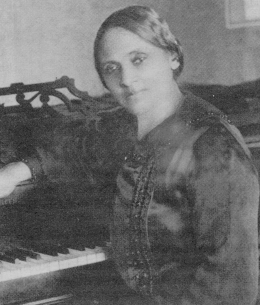 Julia Hooks, one of Memphis' most prominent musicians of color and one of the city's pioneer social workers, was born in 1852 in Kentucky, where her talent in music was recognized at an early age. She was educated in Kentucky and attended Berea College, where she received further musical training.
Establishing herself in Memphis well before the turn of the century, she became active in musical groups such as Liszt Mullard Club, which performed classical music concerts in the city during the 1880s. Other members of the group included Mrs. R. R. Church, Sr., who frequently played piano duets with Mrs. Hooks, and Mrs. Josiah T. Settle, Sr., known for her beautiful soprano voice.
Mrs. Hooks also was involved with various churches because of her expertise in playing the organ and her talent for directing choirs and choral groups. In addition, she taught music, and every year her students appeared in recital at Zion Hall, Beale Street Baptist Church, and, after Church's Park and Auditorium was completed, they appeared in Roberta Church was one of Mrs. Hooks's piano pupils.
For a while, Julia Hooks served as a teacher and principal in the Memphis city schools; she later operated a private kindergarten and elementary school in her home on South Lauderdale Street. Among her pupils, in addition to her sons, Henry and Robert, were Robert Church, Jr., and his sister, Annette, Allison Vance, Nellie Bowles, Edgar Mitchum, and Fred L. Hutchins. Julia Hooks loved children and had an unusual capacity to relate to them; they returned her affection. Frequently, she would organize groups of youngsters for picnics, play activities, or musical programs, arriving at rehearsals for recitals with an ice cream cone for each child.
A dignified, compassionate woman, her sincerity and gentle manner inspired confidence and trust. These qualities served her well when she became an officer of the Juvenile Court, and often she was able to modify the attitude of wayward youngsters and help them cope with their problems. She also was known to provide religious inspiration and spiritual comfort to adult prisoners on occasion.
Around 1907, the city opened a small Juvenile Detention Home next to her residence, which she and her husband, Charles, a truant officer, supervised. Mr. Hooks was killed by one of the wards, but Mrs. Hooks continued her efforts to help young people. At times Judge Camille Kelly, a well-known judge of the Juvenile Court, would invite Julia Hooks to sit with her when certain cases concerning Negro youths were presented.
Although her primary interest and occupation was music, throughout her lifetime Julia Hooks maintained an interest in the underprivileged of all ages. She initiated the founding of the Old Folks and Orphans Home, located on the old Hernando Road. Using her talent as an accomplished pianist, she played in concerts to help pay for the home.
Two sons, Henry and Robert, were born to Mr. and Mrs. Hooks. Both sons became expert photographers and established a studio known as Hooks Brothers Photographers. The interest in photography was passed on to the next generation, and Charles Hooks, son of Robert Hooks, and Henry Hooks, Jr., operated the family business. Henry Hooks, Sr., was a member of the Iroquois Club, a well known social club organized by a group of young men in Memphis. Henry Hooks, Jr., and his father, Charles, were signers of a petition circulated by a group of prominent black and white Memphians endorsing Robert Church, Jr., as Surveyor of Customs for the Port of Memphis. The petition was sent to President Theodore Roosevelt in 1908.
Julia Hooks died at the age of ninety and, according to her obituary, was able to play the piano until a few weeks before she passed away. She is survived by several grandchildren, including Julia Hooks Gordon, a retired employee of the federal government; Robert, Jr. and Raymond Hooks, both employees of the U. S. Post Office; Mildred Hooks, an employee of the Shelby County Government; Benjamin Hooks, who in 1972 became the first black member of the Federal Communications Commission and served as executive secretary of the NAACP; and Bessie Hooks, an employee of the Internal Revenue Service. A great-grandson, Michael Hooks, is a member of the Memphis City Council.