JOSEPHINE GROVES HOLLOWAY (1898-1988)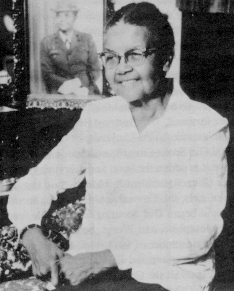 A "pioneer," a "lamplighter," a "hidden heroine." Armed with determination, an old Willis Jeep, and a dream of equality for African - American girls, Josephine Groves Holloway became the founder of the first black Girl Scout troop and was the first black Girl Scout executive in Middle Tennessee. Her father referred to Josephine as "my missionary," and his early perception proved to be accurate when she set out, with missionary zeal, to make the name "Girl Scouts of America" mean what the name implies.
The seventh child and the second gal of John Wesley Groves and Emma Mae Gray, Josephine Amanda was born on March l9, l898, in a Methodist parsonage in Cowpens, South Carolina. Although ten children were born to this union, only three boys and two girls reached adulthood.
Her father, a Methodist minister as his father before him, valued education. John Wesley Groves moved his family to Greenwood, South Carolina, where they remained until Josephine finished Brewer Normal School in Beaufort. On the advice of a teacher, Josephine enrolled in Fisk University during the fall of 1919. She worked through college by mending tablecloths in the dining room and winding clocks in the music practice rooms. Illness from an influenza epidemic and a shortage of funds did not keep her from receiving a degree in sociology from Fisk in June of 1923.
Josephine Groves returned to South Carolina and took a job as a recreational and community worker for the summer while sending out job applications. She said, "The job that appealed to me most was Girls' Worker at Bethlehem Center. In this I could imagine using all of my skills and, at the same time, have a hand in reforming the world."
She became Girls' Worker in September of 1923 and organized the first Girl Scout group in 1924, after completing training with Juliette Low during a special training session at the George Peabody College for Teachers. Josephine's time with the group came to an abrupt end when she married a former schoolmate and co-worker, Guerney Holloway, the Boys' Worker at Bethlehem Center. After the June 30, 1925, wedding, Miss Mathee Nutt, center director, informed the new Mrs. Holloway that a married Girls' Worker would not have enough time for the girls. Holloway resigned in the fall of 1925. Not sharing the same enthusiasm and Persistence of Mrs. Holloway, the next Girls' Worker allowed the troop to fold.
Almost twenty years passed before the black troop was reinstated in 1943 through Mrs. Holloway's efforts. Josephine Holloway returned to school and received a bachelor's degree in business form Tennessee A. & I. State College. She served as assistant registrar at Fisk University (1927-34), before taking a job with the state Tennessee Department of Welfare.
When resistance to her petitions to the all-white Girl Scout Council continued. He "organized an unofficial club for black girls, with gingham uniforms, but soon learned the girls longed to become 'real Girl Scouts."' With the and her husband, Dr. Guerney Holloway, she began removing the obstacles. During her husband's studies at the University of Chicago, he was able to purchase the handbooks which the local Girl Scout Council would not allow her to buy. Mrs. Holloway taught the girls the Girl Scout promise, the laws, and everything needed for their investiture into Girl Scouting. Former Council president Juli Mosley said in a tribute to Mrs. Holloway: "With this trained group of girls, the Council could not deny membership. So, in 1943 troop 200 became a reality and began Girl Scouting in Nashville for black girls." Holloway's three daughters Nareda, Josephine, and Weslia, became members of her troop.
In November of 1944, Mrs. Holloway joined the Girl Scout Council's professional staff as an organizer and field advisor. She also served as a district director and a camp director. In 1951, the Council honored her by naming its new camp for Negro girls "Camp Holloway. Other honors include the "Sojourner Truth Award" from the Nashville Chapter, of the National Association of Business and Professional Women and the "Zeta of the Year Award" from Zeta Phi Beta Sorority.
Mrs. Holloway retired from her scouting career on June 15, 1963. She died on December 7, 1988.