JOHN WESLEY FRIERSON (1880-1965)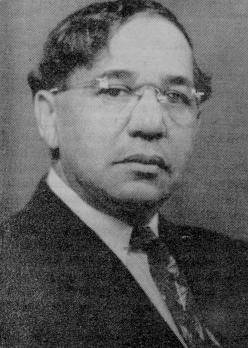 John Wesley Frierson was born near Mount Pleasant, Tennessee, on September 25, 1880. He was educated in the Mount Pleasant schools and reared as a dedicated member of the Church of Christ.
At the turn of the century, his family moved to Nashville. While in his early twenties, Frierson became interested in residential rental properties. He founded and operated the J. W. Frierson Realty Company at 431 Cedar (Charlotte) Street, which was the center of the black business district. After fifty-two years at that location, Frierson moved into his newly built J. W. Frierson Building at 1310 Jefferson Street. Eventually, he owned eighty-five parcels of property in predominantly black areas of Nashville. Frierson's motto was "Clean Deals in Dirt." At the height of his career, his personal worth was near one million dollars.
As his business prospered, Frierson increased his involvement in the Church of Christ. He considered himself a "steward" of the church. Frierson traveled extensively wherever the church met, seeking opportunities to assist struggling congregations, motivating them to engage in projects of improvement. It is estimated that eighty-nine church buildings were erected with the help of Frierson's endowment funds.
He also was active in youth affairs and supported civil rights' activities. encouraged youth with aspirations in the professions of medicine and law. In his will, Frierson stipulated that the Nashville branch of the National Association for the Advancement of Colored People (NAACP) was to have a permanent office in the J. W. Frierson Building at 1310 Jefferson Street. Because of his benevolence, both the local and the national headquarters of the NAACP honored Frierson with life memberships.
Frierson worshipped regularly at both the Jackson Street Church of Christ (founded in 1896) and the Jefferson Street Church of Christ (founded in 1914 and now the Schrader Lane Church of Christ). In 1963, two years before his death, Frierson established the John Wesley Frierson Church of Christ Development Foundation, chartered to receive, hold, and manage property for religious and charitable purposes. Upon his death on February 14, 1965, his will, drawn by attorney Z. Alexander Looby, provided real estate holdings for the Foundation, and the Frierson's home at 1230 Villa Place is maintained as rental property by the Foundation. On February 17, 1965, J. W. Frierson was interred in Nashville's Greenwood Cemetery.