ROBERT REED CHURCH, SR. (1839-1912)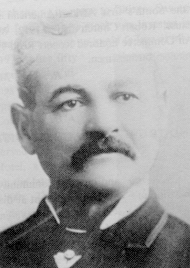 Robert Reed Church, Sr., was a business leader, a philanthropist, and a millionaire. Born in Holly Springs, Mississippi, on June 18, 1839, he was the son of a white steamboat captain, Charles B. Church, and a slave seamstress, Emmeline, who died when Robert was twelve years old. Captain Church worked his mulatto son as a cabin boy and a steward before fateful events took Robert off the river forever.
When the luxury steamer, Bulletin No. 2, burned and sank in 1855, Robert and his father were among the few who survived. Then, soon after the American Civil War began, federal forces captured Robert when he served as a steward on the steamer, Victona. Now a fugitive slave and later a freedman, Robert settled in Memphis, where he embarked upon a career that would establish him as a successful businessman in the South.
Although real estate was Church's main interest, he engaged in other business enterprises, including a hotel, a restaurant, and a saloon. The knowledge he gained as a steamboat steward equipped him to meet the personal needs of customers in a luxurious fashion.
Church operated his hotel in downtown Memphis, on the southwest corner of South Second and Gayoso streets. The hotel was advertised as the only first-class Colored hotel in the city. It had large airy rooms, a dining facility, and was furnished with the best equipment of that day.
Because the City of Memphis did not provide recreational facilities for its African-American citizens in 1899, Church opened "Church's Park and Auditorium" at a cost of $50,000, with total property valued at $100,000. With a seating capacity of 2,000, Church's Auditorium became the cultural center for the region's African-American community. Here Church and local black Republicans held huge rallies and meetings. Republican President Theodore Roosevelt spoke to a gathering of 10,000 persons in Church's Park and Auditorium. The notable musician and "Father of the Blues," William C. Handy, was employed as the orchestra leader. Among other notable speakers and performers at the auditorium were Booker T. Washington, James Weldon Johnson, Walter White, and the Fisk Jubilee Singers. After years of neglect, the auditorium was torn down. In modern times, the city assumed the park property, which was added to the Beale Street Historic District (listed in the National Register of Historic Places) in 1993.
In 1908, Robert R. Church followed the lead of blacks in Nashville and members of Booker T. Washington's National Negro Business League and founded the Solvent Savings Bank and Trust Company, the first black bank in Memphis since the collapse of the Freedman's Savings and Trust Company Bank, Memphis Branch, in 1874. Church was elected president of the bank. Also in 1908, when the Beale Street Baptist Church (today's First Baptist Church of Beale Street) was facing foreclosure by creditors, Robert R. Church and the bank came to Beale Street Baptist Church's rescue and paid off its creditors with liberal repayment terms.
A self-made man and reputedly the South's first African-American millionaire, Church gave voluntarily to every worthy cause. Robert Church died in 1912. More than a half-century later, the Memphis Chamber of Commerce honored Robert Reed Church, Sr. in 1984 by naming him one of Memphis' pioneer businessmen.