SUSANNA MCGAVOCK CARTER: A BELLE MEADE SLAVE (1812-1892)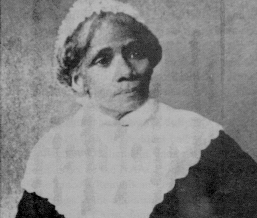 Susanna was born circa 1812 in Williamson County, Tennessee, of an, Indian mother and an English father. Her grandmother was Jonah, a full-blooded Creek Indian, who was born circa 1780-90 and lived on Cedar Knob (Capitol Hill) in Nashville. Susanna's sisters were Ann, Jo Anna, Martha, and Fannie. Ann's father carried her to New Orleans, where they both contracted cholera and the father died. Ann returned to Nashville. (Ann was the author's paternal great-grandmother.) Ann's sisters were left in the custody of Randal McGavock, a wealthy citizen and one-time mayor of Nashville. McGavock claimed the sisters as his slaves after their father died. He gave Susanna to his daughter, Elizabeth Irwin, on January 2, 1840, when she married William Giles Harding, owner of the Belle Meade plantation.
Susanna became Harding's trusted house servant. She married a Belle Meade slave, Isaac ("Big Ike") Carter, and had four children: "Little Ike," Joe, Porter, and Willie. Susanna was one of Harding's 140 slaves at the 3500-acre Belle Meade plantation, just west of Nashville.
Susanna sent two letters (June 3 and August 25, 1862) when her master, W. G. Harding, was in prison at Fort Mackinac Island, Michigan, for supporting the Confederate rebellion against the United States during the Civil War. The letters were remarkable, considering that slaves were not allowed to read or write or dictate letters. Her letters richly described plantation life near Nashville during the Union army occupation. The letters told her master about Belle Meade plantation, its slaves and crops, and the family's efforts to survive the war. Her letters have been quoted in the Tennessee Historical Quarterly (1974) and in a number of books.
Susanna was viewed as a faithful slave. The slaves, especially house slaves and mulattoes, were mere extensions of the white families on most slave farms. Typical of a house slave, Susanna viewed herself as a member of the Harding family and was considered a member of the family by the white owners. During the Civil War, when Harding was imprisoned, she collected and hid the family silver to prevent its falling into Yankee hands. After the end of the war, she recovered the silver, polished it, and presented it to the white family members. Susanna claimed that no slaves "disgraced themselves" by fleeing to the Yankees. However, most slaves and former slaves left Belle Meade between 1864 and 1877. Several Belle Meade slaves served in labor battalions and military regiments of the Union Army of the Cumberland. Dozens of Belle Meade slaves became fugitives in Nashville during the occupation. After the war, Harding, released from prison, opposed the establishment of a Freedmen's Bureau school on his land. During the 1870s, most of the former slaves abandoned Belle Meade plantation, where a wage system replaced slavery. Only five original slave families lived at Belle Meade by 1877.
William G. Harding died in 1886, leaving his plantation to his successors, but Susanna and her family remained attached to Belle Meade until her death, circa 1899. Susanna was noted for her famous syllabub, which consisted of whipping cream and other confectionery ingredients.
Belle Meade was sold in 1906, the year that Bob Green, the famous Belle Meade horse trainer, died.