CHARLES WARNER CANSLER (1871-1953)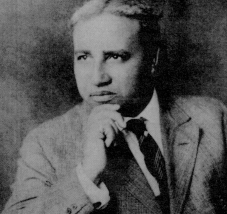 Charles Warner Cansler was born in Maryville, Tennessee, on May 15, 1871. His mother, Laura Scott Cansler, was Knoxville's first black school teacher in 1864, when she got permission from Union Army General Ambrose Burnside to open a school for free blacks during the occupation of Knoxville.
Young Cansler attended the Freedmen's Normal Institute in Maryville before enrolling in biracial Maryville College. Although he did not graduate, he taught school in several counties of East Tennessee before accepting a position in the city schools of Knoxville.
At the age of nineteen he took the civil service examination for railway mail clerk and was hired as a substitute a few months later. Although this position paid no salary, he hoped to be eligible after six months for regular employment. Since he was the first black to be hired by this railway line, the other men expressed a great deal of resentment.
"They did and said nothing to intimidate me, but instead of using me as a substitute to work for them when they had occasion to get off, if another substitute was not available, they would double, that is a clerk on his periodic day off would take the run of the man who was to be on duty," said Cansler. This effectively froze him out of making any money.
He became so disgusted with the situation that he decided to quit and become a school teacher. Ironically, during his summer vacations he worked as a railway clerk and as a bookkeeper in the Navy Yard at Portsmouth, Virginia.
Cansler also had a desire to become a lawyer. He read law with Judge W. C. Kain and at age twenty-one in 1892 passed the Knoxville Bar. He was a Republican candidate for the state legislature in 1894. He decided to give up his law practice and involvement in politics and devote himself to education. His influence would be felt for another half century.
He began teaching at Austin High School in 1900 and became principal in 1912. In 1912, he organized the East Tennessee Association of Teachers in Colored Schools. He was the leader in getting the Andrew Carnegie Foundation to establish a library for blacks in 1917. In 1919 he influenced the state legislature to pass an act enabling descendants of ex-slaves to inherit real estate.
Known as a "mathematical wizard," Cansler traveled the country to give demonstrations of his skills in beating an adding machine by mentally adding tall numeric columns. He wrote two booklets describing his methods.
In 1914, it was he who introduced adult night school classes for working people who wanted to continue their education. Charles W. Cansler retired from the school system in 1939. He died on November 1, 1953.