AUSTIN HIGH SCHOOL (1879-1968)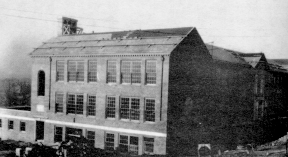 On July 3, 1994, Knoxville's Austin High School Alumni celebrated the 115th anniversary of the school. Founded in 1879, it was the first public high school to educate the city's black youngsters and was the great-great-grand-mother of the present Austin East High school.
When Miss Emily Austin, a white woman of Philadelphia, Pennsylvania, came to Knoxville in 1870, there were various classrooms for black children in church basements and lodge halls, as well as one-room school houses scattered here and there. With her connections in the North, she was determined that black children would be offered a decent education.
After teaching these children in grade school for eight years, she felt the time had come to open a black high school. She returned to the North, raised $6,500 among her friends, and asked the Knoxville Board of Education to contribute another $2,000 to make the school a reality. Austin High School opened during the fall of 1879.
The first black principal of the school, John W. Manning, arrived in the fall of 1881. A native of Edenton, North Carolina, he had been graduated from Yale University earlier that year. He structured the school's curriculum and graduated its first tenth-grade class in 1888. He retired as principal in 1912.
Charles Warner Cansler, known as a "mathematical wizard" and a teacher at the school since 1900, became its principal in 1912. He had read law and had been admitted to the Knoxville Bar in 1892. He was a Republican candidate for the state legislature in 1894, but he decided to give up politics and law for a career in education.
Austin High was originally established on Central Street in an area which, by the turn of the century, was called one of the city's worst vice districts. After much clamoring by local blacks, the school was moved to Payne Avenue in 1916 and renamed Knoxville Colored High School. In just twelve short years this building, too, was overcrowded and outdated for the city's growing black population.
In 1928 a new Austin High School was built just a few blocks away on Vine Street. William A. Robinson was named principal. He moved to Atlanta two years later and was succeeded by Thomas R. Davis, who died in office in 1948.
Fannie C. Clay, the Dean of Girls, was acting principal until Otis T. Hogue was appointed principal in the fall of 1949. By 1952, a third Austin High School building was under construction just a block away. It would offer more space and programs for a modern education. It officially opened in the fall of 1952.
In an effort to bring about full racial integration in Knoxville's high schools, the city Board of Education in 1968 decided to combine Austin High with all-white East High, some eight or ten blocks away. Austin students moved to the East High building in the fall of 1968. The school was renamed Austin East High School.