RICHARD HENRY BOYD (1855-1912)
Richard Henry Boyd, preacher, missionary, entrepreneur, publisher, banker, educator. writer, and black nationalist, was born a slave to Indiana Dixon in Noxubee County, Mississippi, on March 15, 1843. Although he was christened Dick Gray by his slave master, he proudly changed his name to Richard Henry Boyd after the Civil War. He served as a Texas Confederate body servant near the Battle of Chattanooga during the war. After the battle, he returned with the Gray family to their home in Texas. Upon the death Of the surviving head of the Gray family, Dick became a cowboy.
In 1869, Richard Boyd became a Baptist minister. During 1872, he helped organize the Negro Baptist Convention of Texas. During the 1880s, he attended Bishop College in Marshall, Texas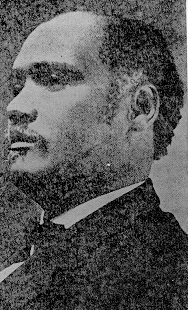 Boyd strongly believed in the ideals of black initiative and self-help for the former slaves. This ideology would later make him a life-long supporter of Booker T. Washington. In 1909, Boyd, Preston Taylor, James C. Napier, and other prominent black leaders would sponsor a state-wide tour for Booker Washington.
Boyd arrived in Nashville in November of 1896. He came to the city for the purpose of establishing a publishing house for Negro Baptists. He wanted blacks to publish their own literature, operate their own businesses, and guide the minds of their own children. Upon arriving in Nashville, Boyd solicited the aid of the pastor of Mount Olive Baptist Church and the white director of the Sunday school press of the Southern Baptist Convention. Boyd became a member of the Reverend C. H. Clark's Mount Olive Baptist Church. The white Baptist Publishing Board loaned him printing plates to start the first publications for the National Baptist Publishing Board (in January of 1897). Until his death in August of 1927, R. H. Boyd was one of Nashville's five top black leaders and undoubtedly one of its most illustrious citizens.
Boyd's work was unending. He assisted in the work of the American Missionary Convention, the American Foreign Mission Convention, and the Education Convention. He contributed to the founding and growth of Bishop College, Guadalupe College, Boyd's Normal Institute, Central Texas College, Roger Williams University, and the National Baptist Theological and Missionary Training Seminary in Nashville (1918-1931). At the latter institution, he served on the faculty. He wrote more than fourteen denominational books, including Plantation Melody Songs, Theological Kernals, An Outline of Negro Baptist History, and The Story of the Publishing Board. He traveled to various parts of the world, including the World's Baptist Alliance Meeting in London. He was involved in organizing the One Cent Savings Bank, the Nashville Globe newspaper, the National Baptist Church Supply Company, the National Negro Doll Company, and the Baptist Sunday School Congress. He was a member of various fraternal, civic, and professional organizations; he also was a leader of black Nashville's 1905 streetcar boycott and purchasing agent of the Union Transportation Company.
Richard Henry Boyd was survived by his wife, Hattie Albertine Moore (whom he had married in 1871), and by five living children: Mattie B. Johnson, Annie L. Hall, Lula B. Landers (all married), Henry Allen Boyd, and Theophilus Bartholomew Boyd. He was interred in Nashville's Greenwood Cemetery.