FIRST BAPTIST CHURCH EAST NASHVILLE (1866- )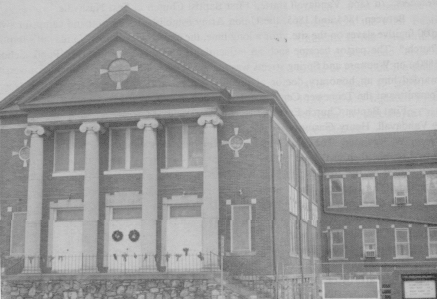 First Baptist Church East Nashville was founded in 1866 by the Reverend Randall B. Vandavall (1832-98), a slave born on March 23 at Neely's Bend. He gained his freedom through self-purchase and Union Army occupation of Nashville in 1862.
Edgefield (East Nashville) slaves had a Baptist congregation as early as January of 1861, when Nashville's white First Baptist Church established a "Second Colored Baptist Mission" in Edgefield on Fatherland Street. The mission was jointly directed by a white committee and a free black preacher, George Dardis. Nelson G. Merry, the free black pastor of First Colored Baptist Mission (now First Baptist Church, Capitol Hill) assisted "Brother" Dardis. But Nashville's white First Baptist Church abruptly discontinued the East Nashville mission in June of 1861, when Tennessee decided to enter the Civil War.
In 1862, the white Spring Street Baptist Church (1858- ) established an "African Mission" on North Cherry Street, under the leadership of George Dardis and "Randall Vandavall." On January 8, this unusual congregation of all free blacks elected Vandavall, not Dardis, as their pastor. Vandavall, Dardis, and all but a few of these free blacks held letters of dismissal from Merry's congregation (organized in 1848), whose members were mostly slaves. But the African Mission was disrupted in February of 1862, when the Union Army occupied the city.
In 1864, Spring Street (Central) Baptist Church reopened under Daniel W. Phillips, a missionary for the American Baptist Home Mission Society. Vandavall became friendly with the Reverend Phillips and helped the Yankee pastor establish a "Baptist College" (Nashville Normal and Theological Institute; later Roger Williams University) for black preachers. In 1866, Vandavall started First Baptist Church in East Nashville.
Between 1864 and 1865, the Union Army established a contraband camp for over 2,000 fugitive slaves on the site. For a long time, the church was called "Vandavall's Baptist Church." The pastor became such an influential leader that the Vandavall Public School (1880s) on Wetmore and Spring streets was named in his honor. Roger Williams University awarded him an honorary doctor of divinity degree in 1886. He served on the Negro Committee of the Tennessee Centennial Exposition in 1897.
First Baptist Church East Nashville was officially chartered on November 13, 1882, by Vandavall, Henry Gasoway, Austin Roberts, Granville Batts, Hezekiah Harding, and George W. Newsom. The congregation first worshipped in Vandavall's home at Berry and Second streets, then in the old Union Army barracks on Mark and Steward streets, before being forced by fire to move to McClure's Hall on the south side of Woodland, between Second and Third streets. The present church structure was built in 1928 on a more centrally located site, the corner of Main and Sixth streets. It was expanded in 1931 and continuously improved, especially from 1934 through 1941. The front entrance of the church was restructured because of the widening of Main Street during the 1960s. Built in a Classical Revival design, this beautiful church building contains an education department, a sanctuary seating 600, a magnificent pipe organ, melodic chimes, a mural by Tennessee State University professor and artist Frances Thompson, and memorial windows.
After Vandavall's death, the Reverend Sutton E. Griggs assumed the pasturage (1899-1908). A college-educated man and a native Texan, Griggs moved to Nashville to work for the National Baptist Convention. He wrote a number of novels: Imperium in Impero (1899), Overshadowed (1901), Unfettered (1902), The Hindered Hand (1905), The One Great Question (1907), and Pointing the Way (1908).
Other learned preachers who served the church included J.D. Bushnell (1908-13), E. W. D. Hawthorne (1913-15), W. S. Ellington (1915-49), Charles L. Dinkins (1950-56), Otis Pickett (interim--1956-59), J. N. Rucker (1959-70), and James A. Campbell (1970-1994).