MEREDITH WILLIAM DAY (1893-1981)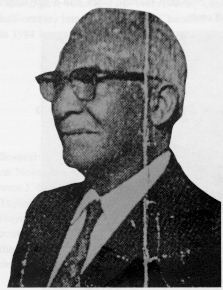 Meredith William (M. W.) Day, entrepreneur, editor/publisher, community/civic leader, churchman, and family man, was born in Franklin, Kentucky, on March 15, 1893. He received his early education in Franklin's public schools and later attended Roger Williams University. During World War One, Day served in the United States Army.
Day's career as an entrepreneur began when he attended Roger Williams University and became a receiver and a distributor for Zibart Brothers Wholesale Dealers of books and magazines. He continued this occupation for a number of years. He and Arthur Turner co-founded the National Motor Assurance Company in 1930. The company offered "AAA" - like services for black owners of automobiles in five southern states, including Tennessee. Also in 1930, Day established the Brown Belle Bottling Company to manufacture and distribute cola, ginger ale, grape, orange, and peach soft drinks. He also distributed a drink called BoGo Chic, "A Great Straight Drink and a Good Mixer." The bottling company was located at 313 Jo Johnston Avenue, until destroyed by the city's urban renewal projects.
M. W. Day became an active leader in black Nashville. He served the NAACP in 1937 and chaired the Colored Division of the March of Dimes in 1940. He chaired the executive committee of the local NAACP for many years before becoming its president in 1950. He was executive secretary many years of the Colored YMCA. He was a charter member of the Frontier International Civic Club, whose members helped firmly establish the Urban League in Nashville, and was a leading proponent of the construction of the Bordeaux YMCA.
During World War Two, Day and attorney J. F. McClellan founded the Nashville Independent newspaper in 1942. This paper merged with the city's Globe in 1944, to become the Globe-Independent. Day continued to work with the Globe-Independent until the paper ceased publication in 1960.
Day became known as an activist leader, a renaissance man. He convinced Nashville's Big Brothers organization to allow blacks to help with its outstanding work with the needy. He served on the executive boards of Phi Beta Sigma Fraternity (Eta Beta Sigma Chapter), American Red Cross, Family and Children's Service, Metropolitan Beautification Bureau, and Boy Scouts of America. He received honors from many organizations, including the NAACP, Phi Beta Sigma Fraternity, and Mount Olive Baptist Church. Day was an honorary sergeant-at-arms for the Senate of the Tennessee General Assembly.
Meredith William Day died on May 22, 1981, at the Veterans Hospital in Nashville. He was funeralized at Mount Olive Missionary Baptist Church on May 25, 1981, and interred in Nashville's National Cemetery on May 26, 1981. His wife, Thelma Davidson Day, passed in 1973.