ROBERT T. BURT (1873-1955)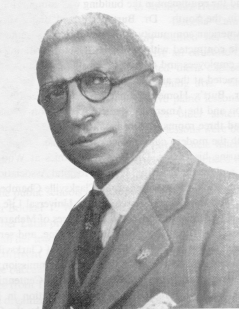 Robert Tecumseh Burt was born in Attola County, Mississippi, on November 25, 1873. He was the third child of ex- slaves Robert and Sylvia (Sanders) Burt. Upon comletion of his primary education at the county school, Burt walked eight miles to and from the high school in Kosciusko. Then he entered Jackson College in Jackson, Mississippi, and finished the normal course in three years. Later, he entered the teaching profession and taught in schools in Louisiana, Mississippi, and Texas.
In the fall of 1889, Robert T. Burt entered Walden University in Nashville, Tennessee. Things were proceeding on course for Burt until he was stricken with typhoid fever and was forced to returned home to Kosciusko. After recovering from his malady, he attended Central Mississippi College, finishing the course offered there. He later returned to Nashville and received his A. B. degree from Walden University. In 1893, Burt entered Meharry Medical College; he completed his four-year medical course with honors in 1897.
Dr. Burt opened his first office in McMinnville, Tennessee. To augment his earnings and pay his education debts, Burt taught classes and held the principalship of Bernard School. In 1902, he relocated to Clarksville, where he succeeded Dr. S. P. Livingston. Dr. Burt set up downtown offices at the rear of the Dickson-Sadler Building on Third Street. In 1904, he purchased the Current House on Front Street (now Riverside Drive) and converted it into a residence and an infirmary for African-American patients in the Clarksville area. Medical history was made when Dr. Burt opened the Home Infirmary to the public on March 6, 1906: it was the first and only hospital in Clarksville until 1916. Burt operated his hospital until the Clarksville Memorial Hospital opened its doors in August of 1954.
Robert Burt engaged in post-graduate work at Harvard University and at the E. A. Printy School of Surgical Technique; he observed new surgical procedures at Michael Reese Hospital, studied at Mt. Sinai Hospital in New York, and attended staff meetings at Bellevue Hospital and Boston City Hospital. He also observed at Mayo Clinic in Rochester and even visited a hospital in Cuba. He worked at his infirmary with a staff of five doctors and eight nurses, and the equipment in the building was comparable to that found in all but the largest hospitals in the South. Dr. Burt performed many surgical procedures. He served the African-American community in the north-central Tennessee and adjacent Kentucky border region. He contracted with the Black Diamond Mining Company to care for its African-American employees and treated the obstetric patients at Fort Campbell before a hospital was constructed at the army base.
Dr. Burt's Home Infirmary was recognized by the National Medical Hospital Association and the American Medical Association. When the Home Infirmary opened in 1906, it had three rooms, two beds, and one nurse. By 1923, the infirmary had thirty-two rooms with the modern conveniences of the time.
During his career. Dr. Burt held clinics at Woodmen's Hospital in Hot Springs, Arkansas, and for the Tri-City Medical Hospital Association in Hot Springs, where he served as president. He was a member of the Clarksville Chamber of Commerce and a stockholder in the Northern Bank of Tennessee and the Universal Life Insurance Company of Memphis. He served as a member of the Board of Trustees of Meharry Medical College, was a member of the Examining Board during World War One, and served the Juvenile Court for many years, as well as serving on the Welfare Board of Clarksville. He was state chairman of the executive committee of the State Interracial Commission; he was appointed by Governor Gordon Browning to represent Tennessee at the Centennial in Mound Bayou, Mississippi, and at the Richard Wright Centennial Celebration in Philadelphia, Pennsylvania. He received the Rosenwald Award and was honored by the Clarksville community when Burt High School was named in his honor.
Dr. Robert Tecumseh Burt died on August 16, 1955, following an illness of eight years. Funeral services were conducted at St. Peter's A. M. E. Church, and he was interred in the Golden Hill Cemetery.
On July 2, 1993, at the location where Dr. Robert T. Burt established Clarksville's first hospital, a Tennessee historical marker was dedicated as a lasting memorial to this pioneering physician.