BRADLEY ACADEMY (1811- )
Bradley Academy, a two-story brick building located at 415 South Academy Street in Murfreesboro, is a dominant landmark, visible for some distance from its commanding position on the hill overlooking downtown Murfreesboro. The building sits on land donated in 1811 by the Murfree family for use as a school. The first school built on the site in 1811 was log and one of the first principals was Professor Bradley, for whom the school was named.
The early nineteenth-century institution's leading scholar was Dr. Henderson, who came to Murfreesboro and founded the First Presbyterian Church. Prior to coming to Murfreesboro, Henderson was pastor of a church in Maury County where he was tutor to the children of Samuel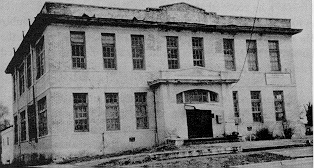 Polk, among them James Knox Polk, who would become the eleventh President of the United States in 1844. When Henderson moved to Murfreesboro, James K. Polk followed his teacher and enrolled in Bradley Academy, delivering the commencement address in 1814. In the audience that night were Mr. and Mrs. Joel Childress of Murfreesboro and their daughter, Sarah who later married Polk.
Bradley Academy was the first school in Murfreesboro, but it was soon followed by the Female Academy in 1825, Union University in 1834, and Soule College in 1851.
In 1884, Bradley Academy was designated the first school for students of African American descent. The first enrollment was 150 students, taught by three faculty members. Bradley graduated it first graduates in 1893.
The present building was constructed in 1917 and opened the following year. After Holloway High School was opened for blacks in 1928, Bradley Academy continued as a first through eighth-grade school. Although accredited bv the Southern Association of Colleges and Schools (SACS), when integration of Murfreesboro schools occurred during the 1960s Bradley was closed and converted to office and storage space.
In 1988, a committee of Bradley alumni and interested citizens formed a group to preserve and rehabilitate the 1917 building. The Bradley Academy Historical Association, formed in 1990, was dedicated to "reclaim the 1917 building for use as a multi-purpose community educational, cultural, and heritage facility." In 1990 the Bradley Academy building was listed in the National Register of Historic Places. With leadership from the E. A. Davis Elk Lodge Number 1138, Bradley Academy Historical Association was formally established with its charter, by-laws, and non-profit status to rehabilitate the building as a community resource center. In 1991 the Tennessee Historical Commission erected a state historical marker at Bradley Academy. A federal grant, through the City of Murfreesboro, was secured to continue rehabilitation of the building through 1994.