ARNAUD WENDELL BONTEMPS (1902-1973)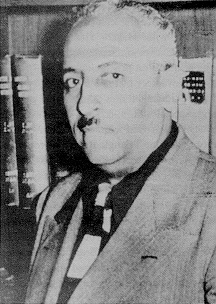 Arnaud ("Arna") W. Bontemps was born to Paul Bismarck and Maria Carolina (Pembroke) Bontemps on October 13, 1902, in Alexandria, Louisiana. Three years after Bontemps' birth, as a result of several racial incidents, his father moved the family to Los Angeles, California. Reared in California, Bontemps received his primary and secondary education in both the public and private schools of the state. In, he was graduated from Pacific Union College with an A. B. degree. On August 26, 1916, Bontemps was married to the former Alberta Johnson, and they became the parents of six children (Joan Maria, Paul Bismarck, Poppy Alberta, Camille Ruby, Constance Rebecca, and Arna Alexander).
In 1943, he earned the M.L.S. degree from the Graduate School of Library Science, University of Chicago. The year following his graduation from Pacific Union College, Bontemps' literary career began when his poem "Hope" was published in Crisis magazine, a periodical of the National Association for the Advancement of Colored People (NAACP). In 1924, Bontemps moved to New York and began teaching at the Harlem Academy. Two years after his move to the epicenter of the "Harlem or Negro Renaissance," Bontemps' poem, "Golgotha Is A Mountain," which was later set to music by John W. Work, III, won the Opportunity (publication of the National Urban League)Alexander Pushkin Award for poetry. In 1927, he again was the recipient of the Opportunity award for poetry and was the first place winner of the NAACP's Crisis poetry contest for his poem, "Nocturne At Bethesda."
Arna Bontemps, who said that he "had watched the Harlem Renaissance from a grandstand seat," became one of its most prolific contributors. In the late 1920s, Bontemps focused his literary attention on the writing of prose. His first work of fictional prose, God Sends Sunday, was published in 1931. This novel was later adapted by Bontemps and Countee Cullen as the stage play, St. Louis Woman. In 1931, Bontemps left the Harlem Academy to take a teaching position at Oakwood Junior College in Huntsville, Alabama. He continued his writing, and in 1932 successfully competed for and won the Opportunity prize for his shortstory, "A Summer Tragedy." During the decade of the 1930s, in addition to his first novel, Bontemps published five books, including historical novels Black Thunder (1936) and Drumsat Dusk (1939) and a children's work entitled Sad Face Boy (1937). A master at his craft, Bontemps became one of the most successful writers of children's books. In 1938, he receiveda Julius Rosenwald Fund Fellowship for a study tour in the Caribbean. Three years later, he edited W. C. Handy's book, Father of the Blues: An Autobiography.
In 1943, Arna Bontemps became the head librarian of Fisk University. He procured early materials and resources on the African-American experience. Bontemps' friendship with Langston Hughes made it possible for him to inaugurate a Langston Hughes Renaissance Collection featuring personalities Jean Toomer, James Weldon Johnson, Charles S. Johnson, and Countee Cullen into the university's library holdings. Also a friend of Carl Van Vechten,the New York music critic, author, photographer, and collector, Bontemps convinced Van Vechten to donate his music collection to Fisk. Among others who made donations to the library collections of Fisk University was W. C. Handy. One of the librarian's peerless attainments was the collection commemorating George Gershwin.
Bontemps continued to be a productive writer. Having turned his attention to the writing of biographical works, in 1945 he published a series of biographical sketches of talented young African-Americans under the title, We Have Tomorrow. During the same year, in collaboration with Jack Conroy, he wrote a compelling study of black migration and urbanization entitled, They Seek A City. This work was revised and expanded in 1966 as Any Place But Here. During the 1950s, Bontemps' biographical works, George Washington Carver (1950), The Storyof George Washington Carver (1954), and Frederick Douglass: Slave, Fighter, and Freeman(1959), were published. Later, his biography, Young Booker T. Washington Early Days (1972)was published. In 1956, the two-time recipient of the Julius Rosenwald Fund Fellowship for writing and a John Simon Guggenheim Fellow, Arna Bontemps was awarded the Jane Addams Award for his The Story of the Negro. In 1958, with Langston Hughes, he edited The Book of Negro Folklore, as well as The Poetry of the Negro (1949).
In 1965, Arna W. Bontemps retired from Fisk University. For approximately one year, he served as director of university relations and as acting librarian. In 1966, Bontemps became a professor at the University of Illinois at Chicago and his Great Slave Narratives was published. Three years later, he went to Yale University as lecturer and curator of the James Weldon Johnson Collection. He returned to Nashville and Fisk University in 1971 as writer in residence and began penning his autobiography. Arna Bontemps edited The HarlemRenaissance Remembered (1972). He wrote and edited over twenty books, his poetry was collected in more than a dozen anthologies, and his periodical publications numbered more than twenty-five, including two fictional and more than fifteen non-fictional articles.
Arnaud Wendell Bontemps died suddenly on June 4, 1973, of a myocardial infarction and later was interred in Nashville's Greenwood Cemetery.