HENRY ALLEN BOYD HALL
Formerly called when erected in 1964 THE LENA B. WATSON RESIDENCE CENTER FOR MEN I. The dormitory located on the southeastern part of the campus is directly east of the BROWN DANIEL LIBRARY. The six-story dormitory serving as the home for male students was re-named HENRY ALLEN BOYD during the school year 1975-76.
HENRY ALLEN BOYD
1876-1959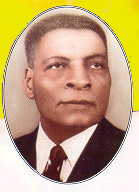 Henry Allen Boyd became a popular leader in black Nashville partly because he edited the Nashville Globe NEWSPAPER 1905-1959. Boyd's Globe began with the effort to publicize Nashville's 1905 Black streetcar boycott. As early as 1908 Henry Allen, Ben Carr, and others helped to successfully persuade the State to build the Negro State Normal School in Davidson County.